Main Features:
32-bit Silent Motherboard
Silent Stepper Motor
Meanwell Power Supply
Thermal Protection
Carborundum Glass Build Plate
220*220*250mm Printing Volume. Other 3D printers of the same price have a smaller print size than Aquila, or some 3D printers go with the same print volume as Aquila but are more expensive than Aquila. Aquila is the most cost-effective one!
Resume printing: No worrying about accidental power off. Aquila resumes print exactly from where it stops when power is back on.
Aluminium body with sturdy structure, no shaking when printing
Filament auto feeding: Put in the filament end and it starts feeding automatically. The enhanced feeding module of Aquila ensures stable feeding (little breaking).
4.3-inch colour screen with user-friendly UI interface.
Cura / Prusa/ Simplify 3D / VoxelMaker software supported.
PLA, ABS, PETG, TPU filaments supported.
Downloads:
Check and download Aquila's latest firmware and quick guides
Update: Aquila H32 BL-touch firmware V5.8.1
Update: Aquila G32 firmware V1.2.4 Fix the thermal protection issue; Fix the temperature detection time.

More Details: 
Fast Heating in 5 Minutes
Aquila uses a carbon-silicon crystal glass bed that can be heated up & reach higher temperatures way faster than a conventional 3d printer build platform. 
Fast heating mode brings strong adhesion, which helps quickly achieve modelling while not cause warping and even pop 3d objects loose from the bed.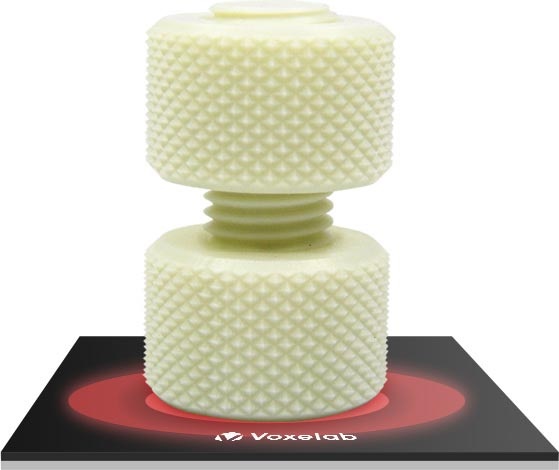 High Standard V Profile
V profile pulley ensures steady motion, low noise, and wear resistance. It also helps extend the machine's service life.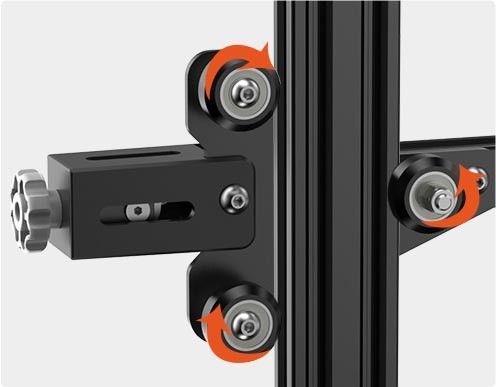 New All-in-one Tuner
The novel XY axis adjuster allows you to adjust belt tightness easier and quicker than before.
Colour Screen with Rotary Knob
Set up 3d print task and control Aquila simply by rotating spindle. Super easy! And the mechanical life is much longer than a touchscreen.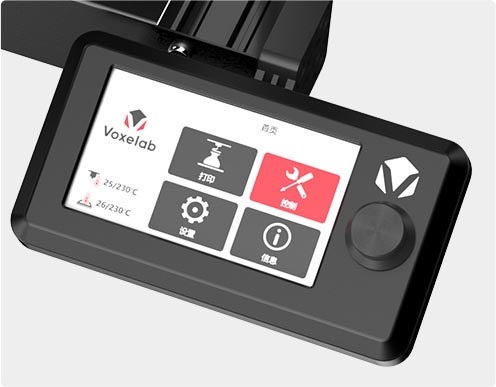 Reviews:
A deep Aquila video review from 3DPrintSOS.
Voxelab Aquila VS Other Brands - Which Budget 3D Printer Should You Buy?
Parameters: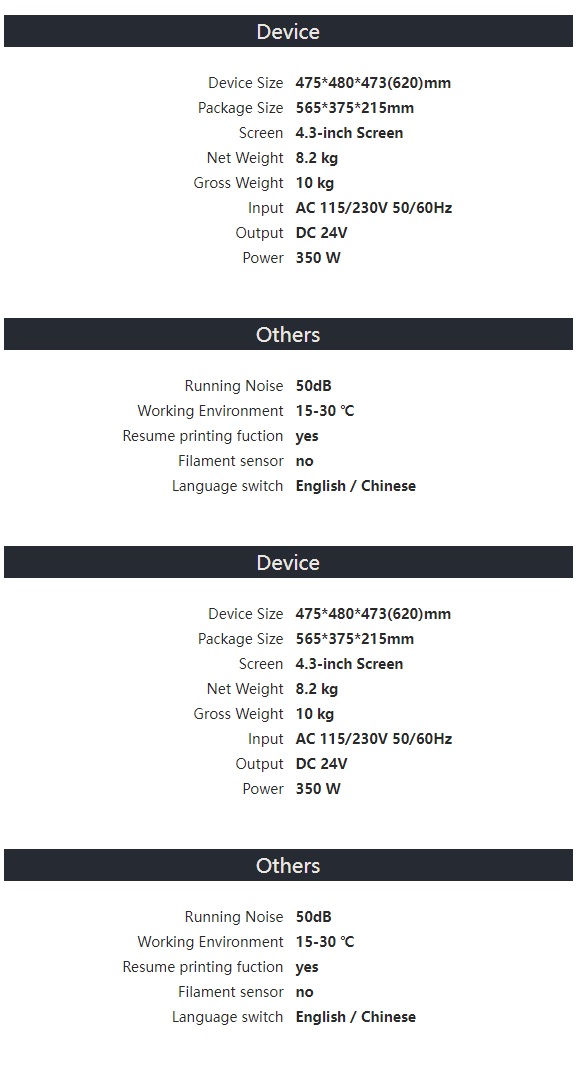 What's In The Box: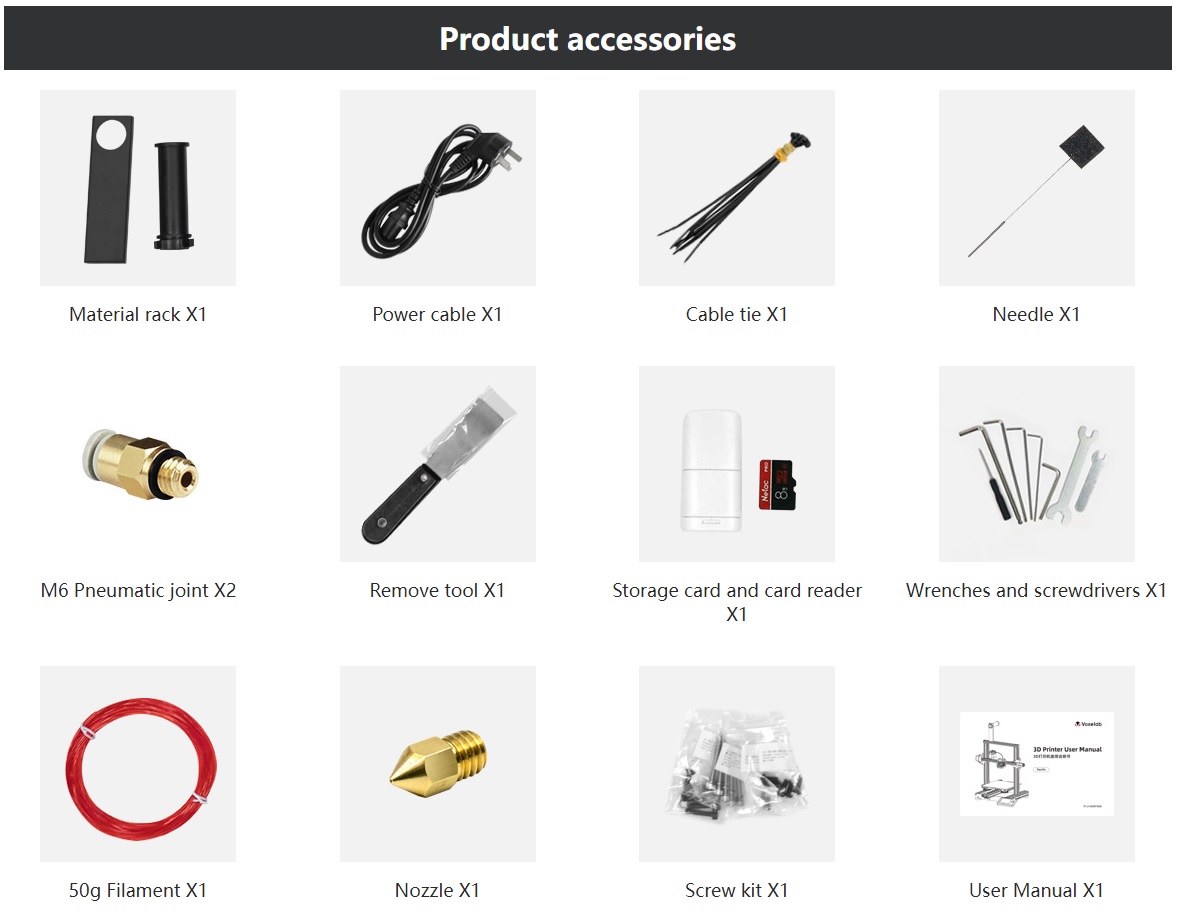 Build Your Unique Aquila!
With open-source and easy-to-customize firmware, any 3D printer enthusiast can build your own 3D printer based on Voxelab Aquila. Here's some Aquila modification inspiration from our users, take a look and be amazed by the endless possibilities for customization!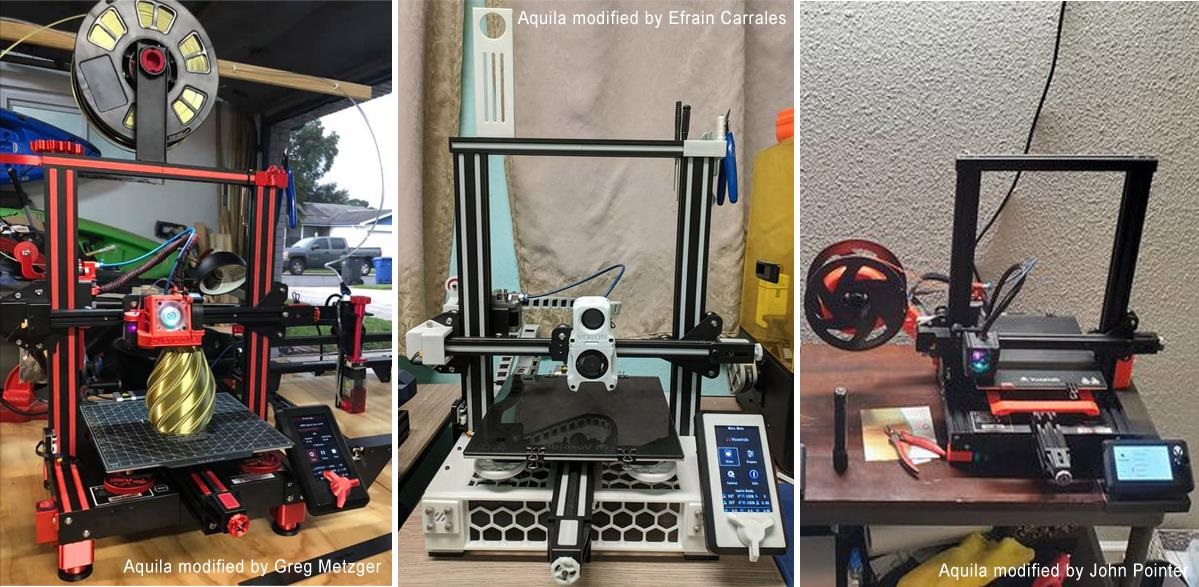 Amazing Prints from Aquila's users!
FAQ: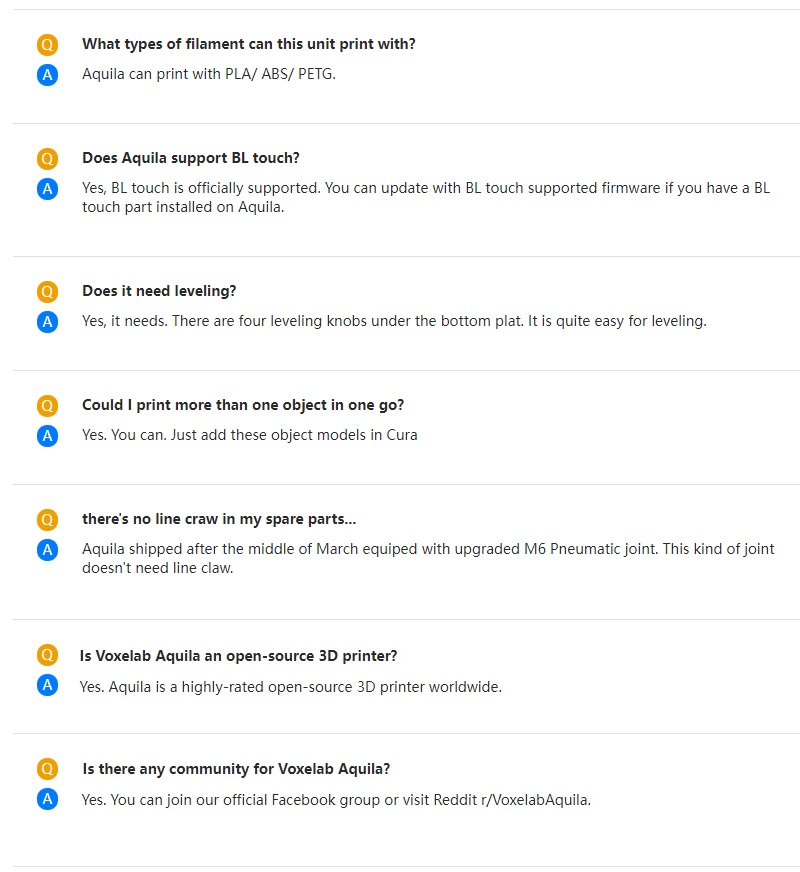 Not sure where or how to start? You can start by being a part of our 3D Printing Community!