Description
Note: These are options for the RetroFlag NES Pi4 Case, please choose your preferred kit under the Available Options:
---
Now, The Most Powerful Raspberry Pi Comes with
8GB, 4GB, 2GB or 1GB RAM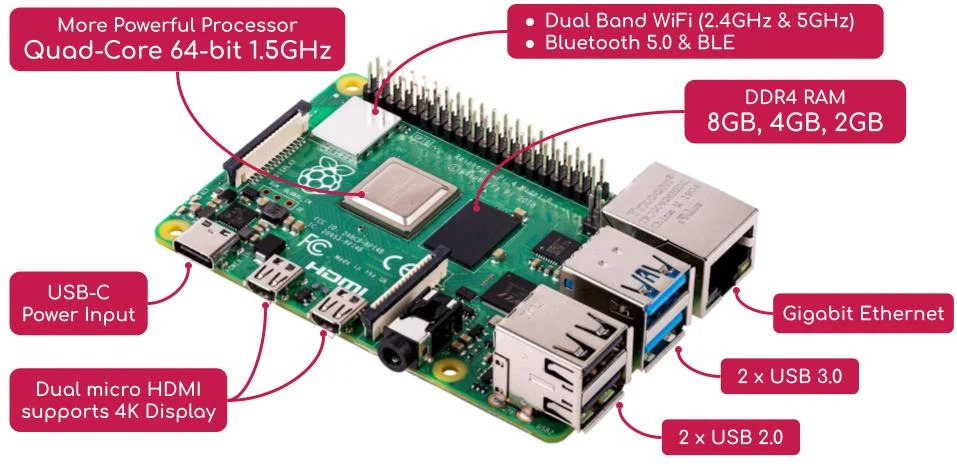 The Raspberry Pi is a series of small single-board computers developed by the Raspberry Pi Foundation in the UK to promote the teaching of basic computer science in schools and in developing countries. The original model became far more popular than anticipated, getting outside its target market for uses such as automation, multimedia, robotics, IoT, and now even in IR4.0.
The Latest RetroFlag NESPi 4 Simple Version Case
Missing childhood moments playing retro games with your friends? We bring to you one of the greatest Raspberry Pi 4 cases that you can play retro games with it!
This RetroFlag NESPi 4 case applies the most iconic element in the retro game world as a homage to the most classic console ever made, this NesPi 4 case can make your Raspberry Pi 4 Model B become an NES retro gaming machine in one second! Check out the unboxing video by ETA Prime:
Update: RetroFlag has changed the specification of this case. The price has been reduced but please be aware of the following changes:
Internal and External USB ports now USB 2.0
Heatsink and fan no longer included
Ethernet now 10/100 (previously Gigabit)
NESPi 4 CASE offers your Raspberry pi good protection with ONLY a few steps to assemble, you can access all ports of the Raspberry Pi 4 Model B computer, such as power, audio, USB, LAN, MicroSD Card Storage, and Micro HDMI connector without opening the CASE. Also, this NESPi 4 Case comes with an NES Cartridge style case for 2.5'' SSD, easy to install your SSD, and enjoy an overall better computer experience!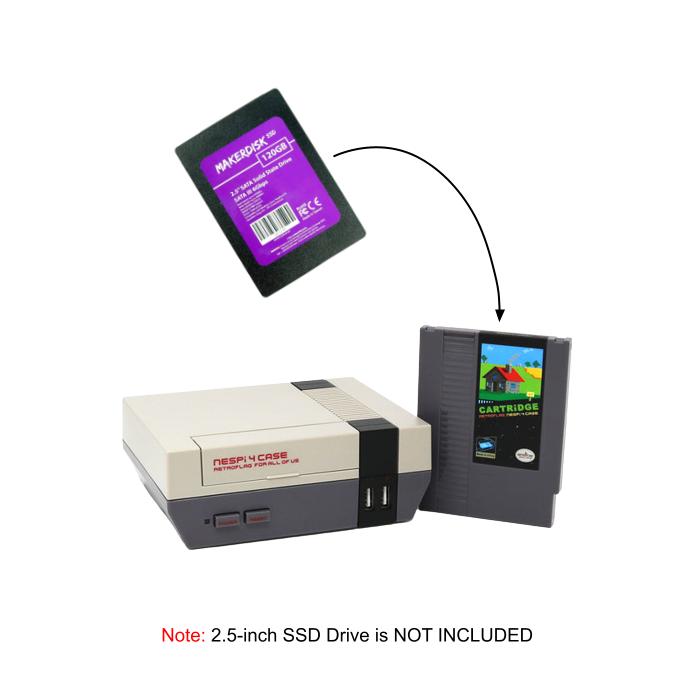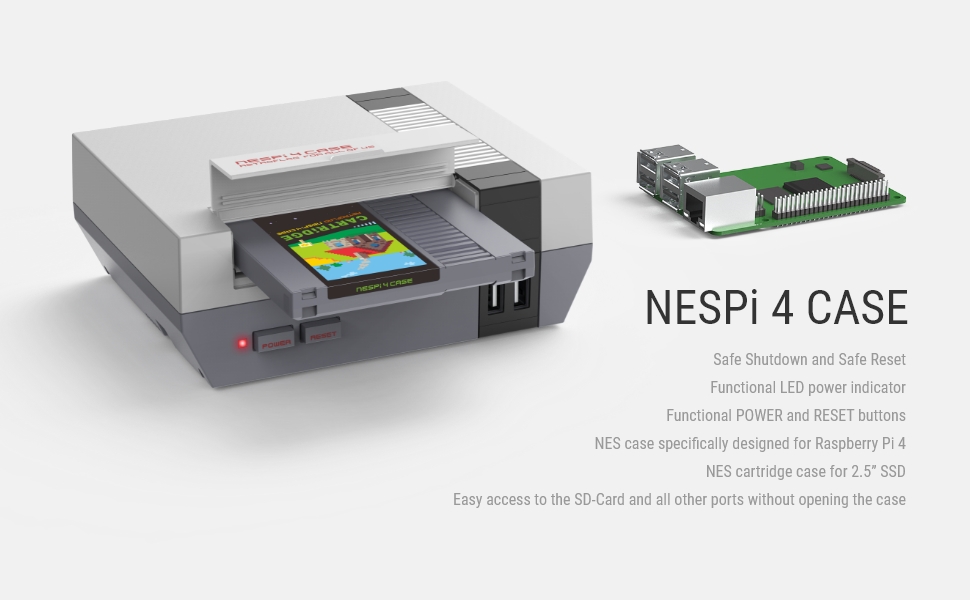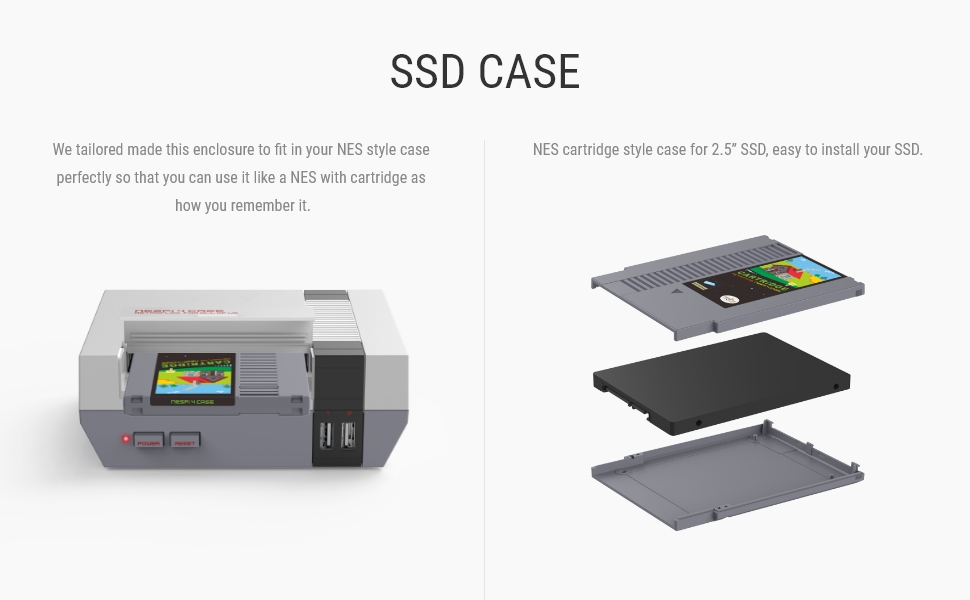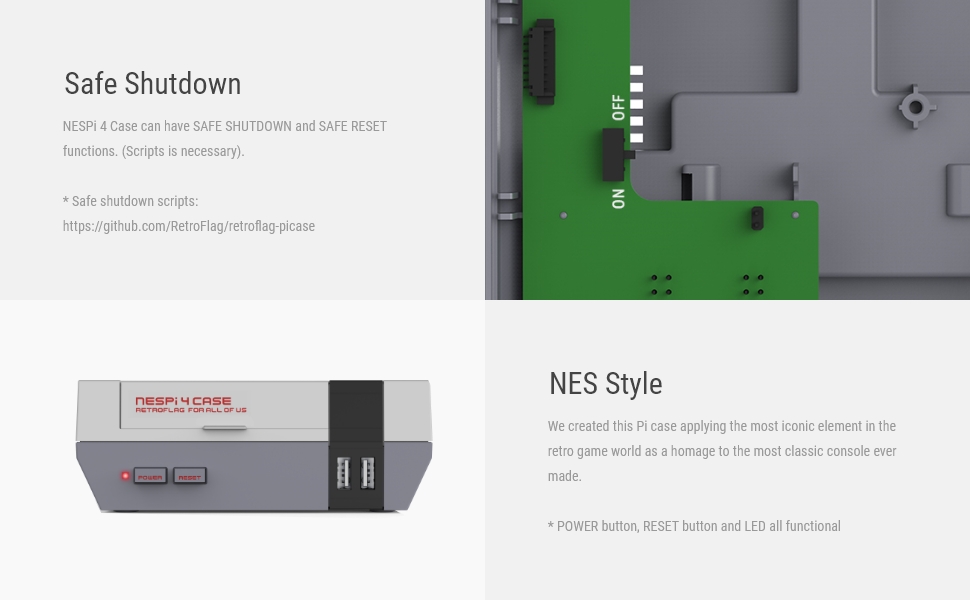 Note: The case both uses and expands your USB ports. Overall you are left with 3 ports - 2 external and 1 internal.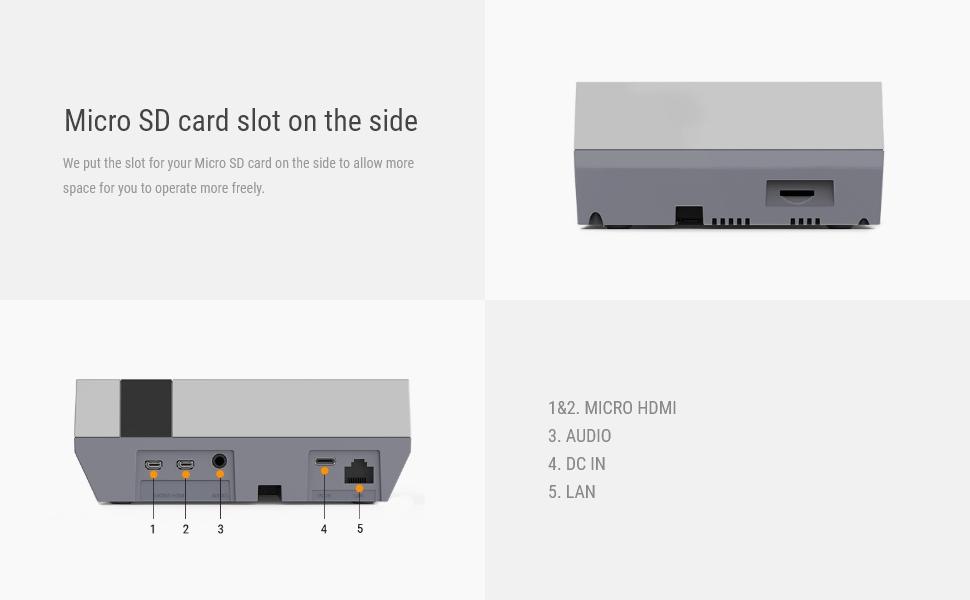 RetroPie has just released version 4.8 on 14th Mar 2022 (Pi Day), please check out the demo from Floob, you can download the latest RetroPie image here.
You can also download the latest RetroPie OS image into your microSD card or 2.5" SSD using Raspberry Pi Imager:

Features
Raspberry Pi 4 Model B Board:

Broadcom BCM2711, 64-bit ARM Cortex-A72 (ARMv8), Quad-core, 28nm Processor SoC running @ 1.5GHz, with a metal body for better heat dissipation.
LPDDR4 SDRAM
2 x USB3.0 Port + 2 x USB2.0 Port
Expanded 40-pin GPIO Header
Video/Audio Out:

4-pole 3.5mm connector
2 x micro HDMI port, support 4Kp60 video, dual display
Raw LCD (DSI)

Image/Camera input: CSI port
Storage: MicroSD
True Gigabit Ethernet, >900 Mbps
Power-over-Ethernet (PoE) support (requires separate PoE HAT)
2.4GHz and 5GHz IEEE 802.11.b/g/n/ac wireless LAN, Bluetooth 5.0 and BLE (Bluetooth Low Energy)
Low-Level Peripherals:

27 x GPIO
UART
I2C bus
SPI bus with two chip selects
+3.3V
+5V
Ground

Power Requirement, 5V/3.0A via USB type C connector.
Supports Raspbian, and check 3rd party Operating System here.
Dimensions: 85mm x 56mm x 17mm
RetroFlag NESPi 4 Case (Simple Version):

Safe Shutdown and Safe Reset
Functional LED power indicator
Functional POWER and RESET buttons
NES case specifically designed for Raspberry Pi 4
NES cartridge case for 2.5" SSD
Easy access to the SD-Card and all other ports without opening the case
Case: Plastic
Power Supply: USB Type C Power Adapter
2 x External USB Port
2 x Micro HDMI Port
1 x 3.5mm Audio Jack Slot
1 x LAN Slot
1 x Micro SD Card slot
Dimension: 114.65mm x 143.37mm x 53.70mm
Weight: 330g

What Else Do You Need to Get Started?
A good power supply or power adapter - Because Raspberry Pi 4 Model B comes with USB-C for input power, you will need USB-C Power Adapter. Get the official adapter from Raspberry Pi Foundation here:
As always, a good storage to keep the Operating System and Retrogame image is necessary, you can opt for either a microSD card or a 2.5" SSD:
With dual HDMI ports and limited space, the Raspberry Pi 4 Model B can only utilize a micro HDMI socket. You can grab the:
Classic Retro Super Nintendo USB Gamepad, of course, you will need a gamepad/joystick to play the game.
A TV or LCD Monitor with a built-in Speaker and with HDMI multimedia input port:
Packing List
Raspberry Pi 4 Model B 8GB with RetroFlag NESPi4 Case Kit

1 x RetroFlag NESPi4 (Simple Version) Case:

1x RetroFlag NESPi4 Case
1x NESPI4 SSD Cartridge
1x Screwdriver
2 x Black Screws
2 x Flat Head Screws
2 x Short Screws
6 x Long Screws
1x Instruction manual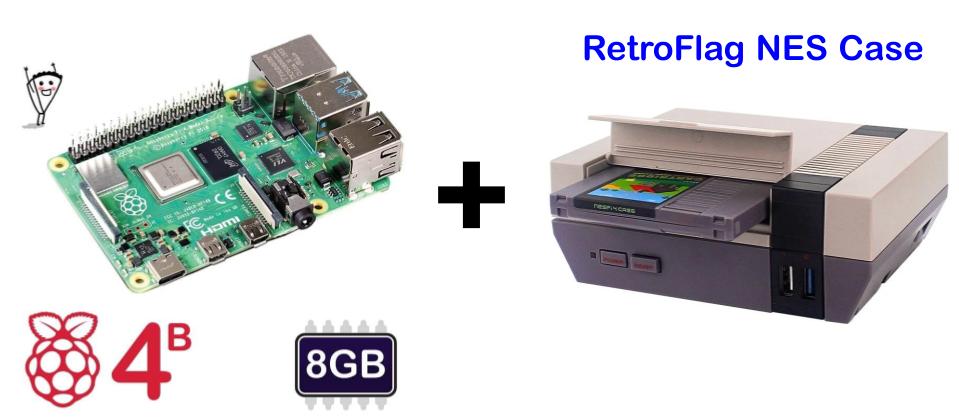 Raspberry Pi 4 Model B 4GB with RetroFlag NESPi4 Case Kit

1 x RetroFlag NESPi4 (Simple Version) Case:

1x RetroFlag NESPi4 Case
1x NESPI4 SSD Cartridge
1x Screwdriver
2 x Black Screws
2 x Flat Head Screws
2 x Short Screws
6 x Long Screws
1x Instruction manual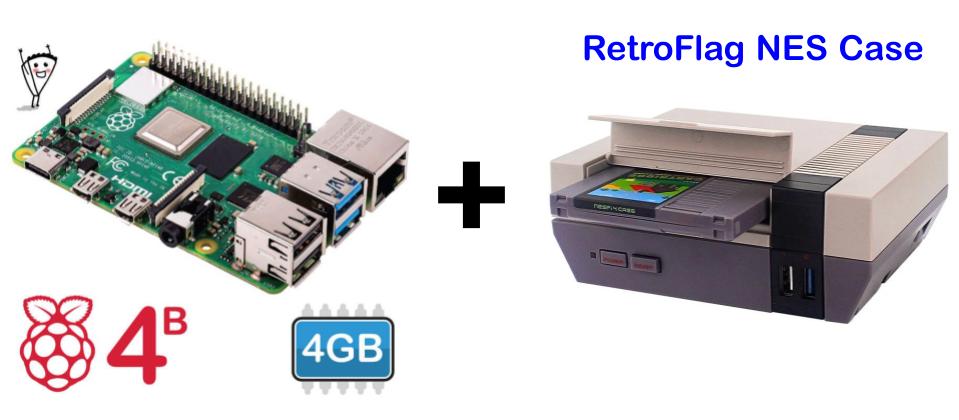 Raspberry Pi 4 Model B 2GB with RetroFlag NESPi4 Case Kit

1 x RetroFlag NESPi4 (Simple Version) Case:

1x RetroFlag NESPi4 Case
1x NESPI4 SSD Cartridge
1x Screwdriver
2 x Black Screws
2 x Flat Head Screws
2 x Short Screws
6 x Long Screws
1x Instruction manual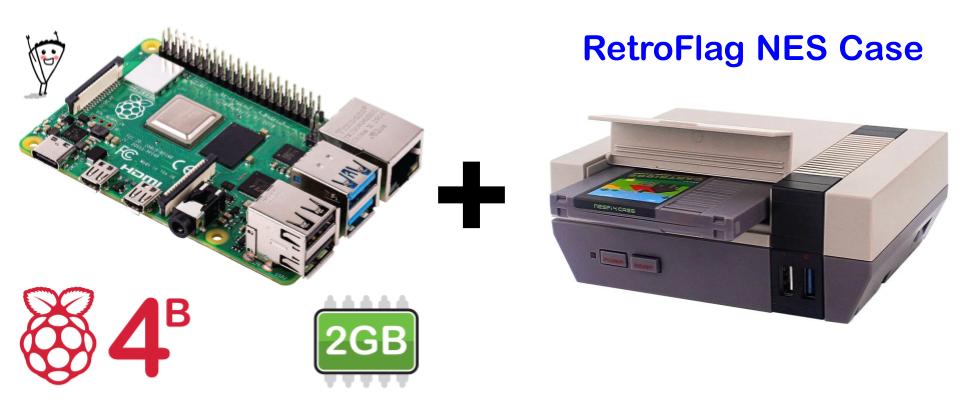 Raspberry Pi 4 Model B 1GB with RetroFlag NESPi4 Case Kit

1 x RetroFlag NESPi4 (Simple Version) Case:

1x RetroFlag NESPi4 Case
1x NESPI4 SSD Cartridge
1x Screwdriver
2 x Black Screws
2 x Flat Head Screws
2 x Short Screws
6 x Long Screws
1x Instruction manual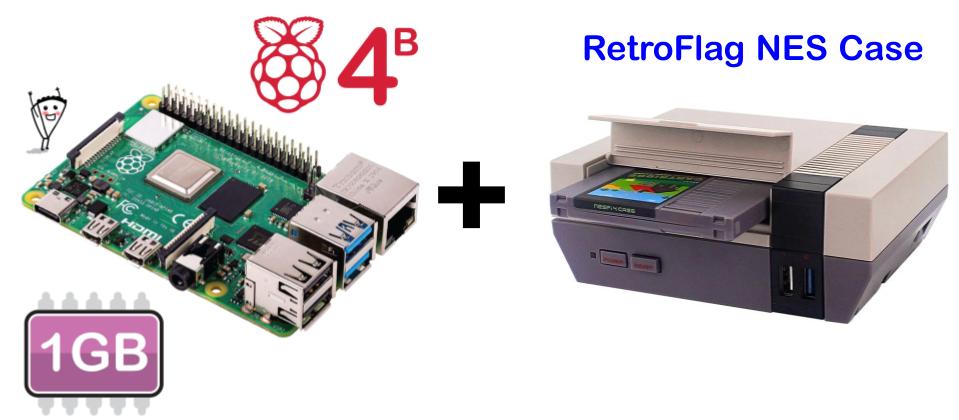 RetroFlag NESPi4 (Simple Version) Case ONLY:

1x RetroFlag NESPi4 Case
1x NESPI4 SSD Cartridge
1x Screwdriver
2 x Black Screws
2 x Flat Head Screws
2 x Short Screws
6 x Long Screws
1x Instruction manual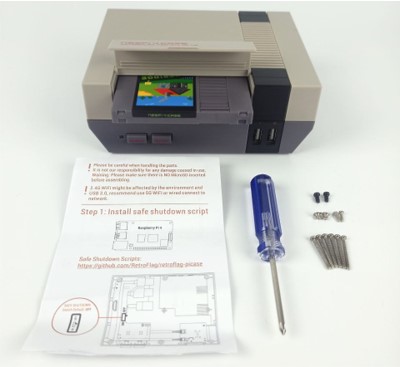 Resources