Note: Due to the distribution region, this product can ONLY be shipped to ASEAN countries (Malaysia, Singapore, Thailand, Indonesia, Vietnam, Philippines, and Brunei).
Note: This Computer Kit comes with a Raspberry Pi 400 with US Layout Keyboard, and a UK Power Plug (Malaysia, Singapore).
---
An exclusive computer kit for the newly launched Raspberry Pi 400 keyboard computer, packed by Cytron Technologies. It is based on the 1st of its kind Raspberry Pi single-board computer. This kit includes everything (except a monitor) you need to get it up and running within minutes. If you plan to use it for a conference call, you might need to get a USB webcam and a USB to 3.5mm Audio adapter separately. Check out how this kit is being set up and used for Google Meet by Berani Buat (in Bahasa Malaysia):
Note: The LCD monitor, USB to Audio adapter in the video are not included in this kit.
Another good demonstration from Cikgu Siber:
Note: Google Meet can be used on Chromium (default Internet Browser) as shown by various users. To share your screen, just update the Raspberry Pi OS.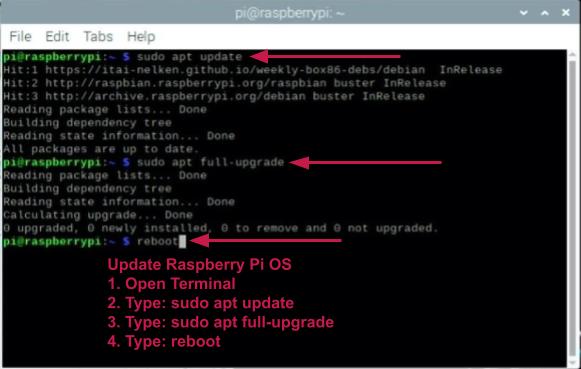 ---
The Most Powerful Raspberry Pi Keyboard Computer
The Raspberry Pi 400 in this kit comes with a US layout keyboard, 78-key. The Raspberry Pi 400 is a very innovative integration and practical for everyone, as for most of the applications, a keyboard is needed to access or to navigate the operating system, like a laptop :)
mini size Keyboard with US Layout, 78 keys
Run Faster Than The Most Powerful Raspberry Pi
1.8 GHz vs 1.5 GHz
Yes, Raspberry Pi 400 comes with a similar processor to Raspberry Pi 4 Model B but clocked at a faster speed, 1.8GHz. This is 20% faster than 1.5GHz on Raspberry Pi 4 Model B. After more than a year of the launch of Raspberry Pi 4 Model B 1GB, 2GB, 4GB, and 8GB (in May 2020), many have proved it to be at par with an entry-level x86 PC system and many had tried it to replace a desktop computer. It never disappoints any of us! With the faster processor speed, groundbreaking multimedia performance, and connectivity, and RAM of 4GB, you will be blown away with its performance! Now, this powerful single-board computer is embedded in a Keyboard, making it more convenient for everyone.
With the same powerful processor as the Raspberry Pi 4 Model B, the Raspberry Pi 400 requires at least a 3.0A USB-C power supply. This kit includes the Official Raspberry Pi 5V 3A USB-C Adapter with UK plug (type G) and is meant for the Raspberry Pi 4 Model B and suitable to be used in Singapore, Malaysia, UK, etc.
The Raspberry Pi 400 preserves the dual micro-HDMI ports on Raspberry Pi 4 Model B that are capable of delivering 1 x 4Kp60 or 2 x 4Kp30 multimedia. This wireless computer kit includes an official Micro HDMI to HDMI cable (1 meter) to provide the optimum media output resolution support.
We also include the microSD card needed for Raspberry Pi OS and data storage. In fact, to save your time to download the OS or NOOBS, we include a Raspberry Pi Approved 32GB MakerDisk microSD card with Raspberry Pi OS preloaded, saving the troubles you need to download and burn the image into the microSD card :) The
32GB microSD
boots up on the newly launched Raspberry Pi 400 and straight away you are in the Raspberry Pi OS.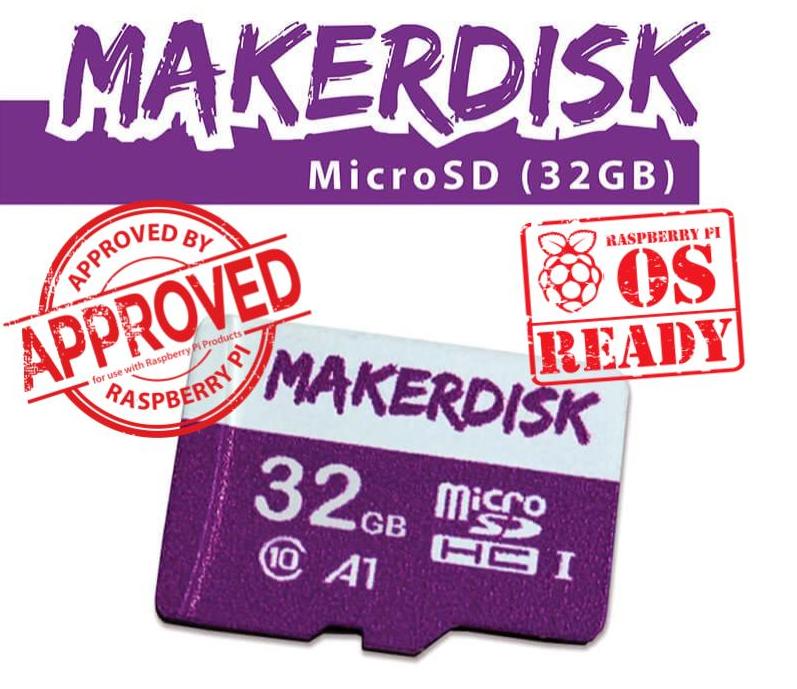 Note:
The MakerDisk microSD card comes
Pre-loaded
with
Raspberry Pi OS
and is ready to boot up on any Raspberry Pi computer, including the Raspberry Pi 400 keyboard computer. Please
DO NOT
format it if you intend to use it with the Raspberry Pi board.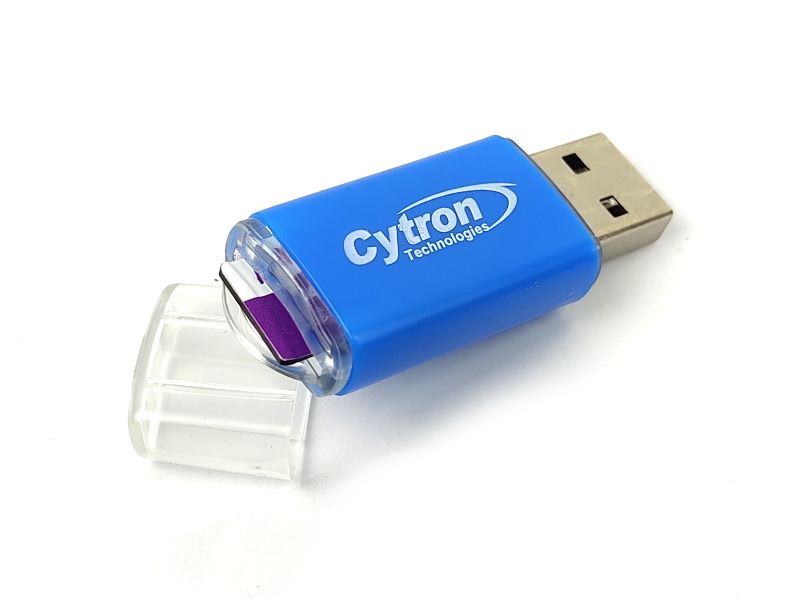 The Raspberry Pi 400 comes as a keyboard computer, you do not need to get a separate keyboard. Yet, you will most likely need a mouse to navigate in the operating system, at least during the beginning. Hence, we include a USB Wired 1000dpi Optical Mouse. As it is a USB wired mouse, you are free from the worries about the battery running out. It will always be powered as long as it is connected to a USB port :)
This USB Wired Optical Mouse provides great cursor control for browsing documents or Internet pages or even to be used with your Raspberry Pi 400. It is not a fancy high-tech mouse, but it is perfect for digital making and home learning usage. It is a three-button mouse, a scroll wheel, and a 140cm long USB A cable. Just insert the USB A to one of Raspberry Pi 400 Keyboard Computer's USB ports (USB2.0 or 3.0) and it works right out of the box, no driver is needed. Super easy!
This computer kit packed by Cytron Technologies includes:
Note: This computer kit DOES NOT come with a Display/monitor/screen, offering freedom to use your existing TV (HDMI) or LCD monitor. Yet, we recommend the following display device:
So basically, it comes with all the necessary devices, yet allows you to choose the preferred HDMI display to kickstart your digital making.
Note: In the case where you want to use this computer kit for a conference call like Google Meet (it works), you might also need:
A USB Webcam, we have tested this model. No driver installation is needed and it comes with a built-in mic too. Plug and use.
USB to 3.5mm Audio Adapter - TRRS, this adapter enables you to use the commonly available smartphone headset as an audio input (mic) and output (speaker) during a conference call.
Features:
Raspberry Pi 400 Computer kit by Cytron
US Layout, 78-key Raspberry Pi 400 Keyboard Computer
Official Raspberry Pi 15W 5V 3A USB-C Power Adapter - UK Plug
Cliptec 1000dpi USB Wired Mouse for worry-free mouse operation
All parts can be reused for other purposes or projects
Perfect for beginners, schools, students, and maker-lab
Choose your preferred HDMI LCD monitor
Comes with a 32GB MakerDisk microSD card with pre-loaded Raspberry Pi OS, no extra work is needed to boot up the Raspberry Pi 400
Raspberry Pi 400 Spec (in this kit):
A Keyboard Computer
78-key mini US Layout Keyboard
Broadcom BCM2711C0, 64-bit ARM Cortex-A72 (ARMv8), Quad-core, SoC running @ 1.8GHz, with a metal top for better heat dissipation
LPDDR4-3200 4GB SDRAM
Expanded 40-pin GPIO Horizontal Header
Storage: MicroSD or USB Drive
MicroSD card and USB Boot Ready out of the box
A push-push MicroSD card socket
Video/Audio Out:

2 x micro HDMI port, supports 1 x 4Kp60, or 2 x 4Kp30

NO Audio & Video 3.5mm Jack
NO CSI (Camera) and DSI Port
Power Requirement, 5V/3.0A via USB type C connector
2 x USB3.0 Port + 1 x USB2.0 Port
Gigabit Ethernet, >900 Mbps
NO PoE (Power over Ethernet) capability
2.4GHz and 5GHz IEEE 802.11.b/g/n/ac wireless LAN, Bluetooth 5.0 and BLE (Bluetooth Low Energy)
Built-in PCB Antenna
Integrated as Keyboard computer, no extra enclosure/case to protect the motherboard
Comes with a big heatsink with very good heat dissipation for the CPU, keeping the whole system cool even under full-load
Low-Level Peripherals (via horizontal headers):

27 x GPIO
UART
I2C bus
SPI bus with two chip selects
+3.3V
+5V
Ground

Integrated with a Kensington Lock
Supports Raspberry Pi OS, and all Raspberry Pi 4 Model B compatible 3rd party Operating systems, for example, Ubuntu, Kodi, OSMC
Dimensions:  286mm x 122mm × 23mm
Packing List: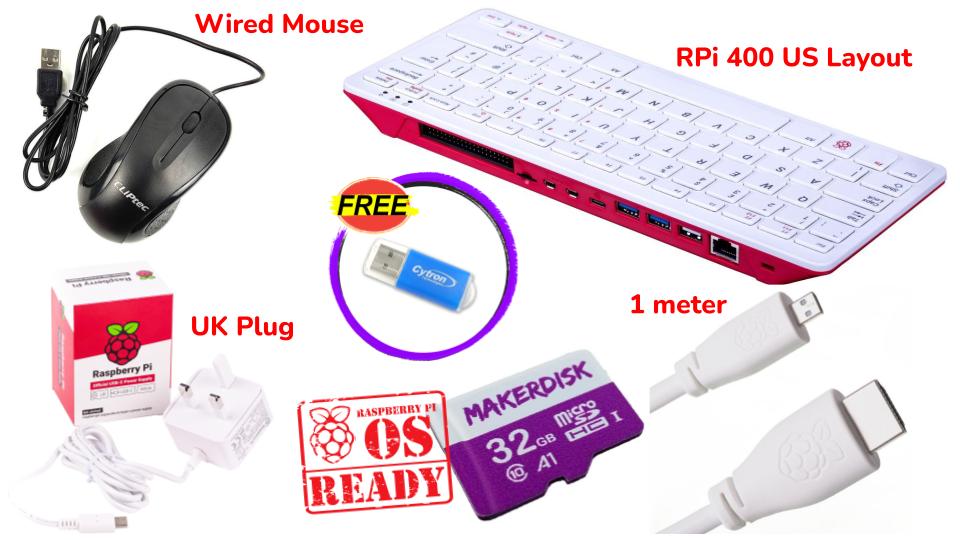 Resources: