Note: Check out this DISCOUNTED bundle of a Raspberry Pi 4 Model B 8GB and a 32GB Class 10, A1 MakerDisk MicroSD card - ready with Raspberry Pi OS.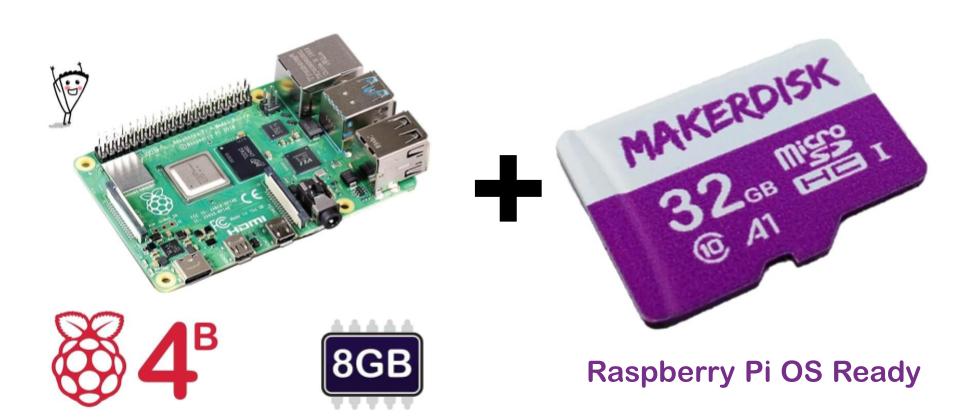 ---
Now, The Most Powerful Raspberry Pi Comes with 8GB RAM
Announced on the 28th May 2020, the Raspberry Pi 4 Model B with 8GB RAM is released and it's available on Cytron marketplace! 
What is the Raspberry Pi Single Board Computer?
The Raspberry Pi is a series of small single-board computers developed by the Raspberry Pi Foundation in the UK to promote the teaching of basic computer science in schools and in developing countries. The original model became far more popular than anticipated, getting outside its target market for uses such as automation, multimedia, robotics, IoT and now even in IR4.0.
The board itself does not include peripherals (such as keyboards and mice) or cases. However, there are many accessories to have been included in several official and unofficial bundles, making it highly customizable. Generally, the Raspberry Pi board comes with CPU, GPU, RAM, HDMI multimedia port, USB ports, wireless or wired connectivity, Camera interface, microSD card slot, and General Purpose Input/Output Pins. There are millions of Raspberry Pi boards in universities, polytechnics, schools, factories, maker spaces, and even the space station.
The Most Powerful Raspberry Pi - Raspberry Pi 4 Model B
Now with 8GB DDR4 RAM!
Yes, Raspberry Pi 4 Model B with 1GB, 2GB, and 4GB RAM was launched last year (June 2019) and it is already at par with entry-level x86 PC system and many had tried it to replace a desktop computer. It never disappoints any of us! Now with the same ground-breaking performance in processor speed, multimedia performance, and connectivity, and with the huge RAM of 8GB, you will be blown away with its performance! Not to mention it retains full backward compatibility and similar power consumption with the 1GB, 2GB and 4GB of Raspberry Pi 4 Model B.
Check out the Major Upgrades on Raspberry Pi 4 Model B. And here is the comparison table between Raspberry Pi 4 Model B vs Raspberry Pi 3 Model B+:
The Highlights:
Raspberry Pi as Desktop Computer
The 4GB version of Raspberry Pi 4 Model B is being packed as a desktop computer kit and many have tried it, and are amazed by the performance of this small single-board computer. Imagine what will the same board that offers faster 1.5GHz 64-bit quad-core CPU on the Raspberry Pi 4's Cortex A72 SoC now coupled with the 8GB LPDDR4 RAM can give? Besides the significant faster boot speeds and much better performance for CPU-heavy tasks like emulation and media center usage; it will be perfect for AI (Artificial Intelligence), maybe multimedia editing, Web server or any application that requires huge memory! We have been using this the 4GB board as daily online web-based work including accessing emails, Google Drive and playing YouTube videos via the Chromium browser. Can't wait to try the 8GB version? I am sure you will love it.
Faster USB and Ethernet
The Raspberry Pi 4 has two USB 3.0 ports, for up to 10x faster transfer speeds than USB 2.0, perfect for connecting fast peripherals like SSDs and flash drives. There are also two USB 2.0 ports for connecting less speed-dependent peripherals like keyboards and mice.
The true gigabit ethernet on the Raspberry Pi 4, designed for super-speedy wired networking while retaining the Power-over-Ethernet capability (requires additional Raspberry Pi PoE HAT), making it perfect as a media server and network-related projects. We manage to get 940 Mbits/s through Iperf3 on Raspberry Pi 4 Model B's Ethernet port.
4K Multimedia, Dual Display
With the Video VI GPU, Raspberry Pi 4 Model B is capable of supporting 4Kp60 multimedia. You can use much larger displays with crisp, sharp, high resolution. Use the H.265 4Kp60 hardware decoding to watch 4K movies in your favorite media center distro.
For the first time, you'll be able to use dual HDMI displays with the Raspberry Pi. This is great for working on a bunch of different tasks at the same time without having to work in tiny windows.
Of course, you will need the micro HDMI cable, we have you covered! Get the official micro HDMI cable here. 
More Peripherals on GPIO
Alongside the major upgrades, Raspberry Pi 4 Model B still keeps backward compatibility on the 40-pin GPIO. So generally, all of the HATs (Hardware Attach on Top) are still compatible with this powerful board. However there are also some upgrades on the 40-pin header, the new Raspberry Pi has support for an additional 4× UART, 4× SPI, and 4× I2C connectors. Of course, it is still compatible with Cytron's Maker pHAT :)
USB-C for Input Power
With the USB-C socket for Input power, Raspberry Pi 4 Model B is able to get more power (preferred 15W or higher) and deliver higher power for its peripherals such as USB 3.0, e.g.: HDD and SSD Hard Disk. With that, you will need the Power Adapter with USB-C cable, and of course, we have it. Grab the UK plug and EU plug here, both are official power adapter from Raspberry Pi Foundation.
Features and Specs:
Broadcom BCM2711, 64-bit ARM Cortex-A72 (ARMv8), Quad-core, 28nm Processor SoC running @ 1.5GHz, with a metal body for better heat dissipation.
LPDDR4 8GB SDRAM
2 x USB3.0 Port + 2 x USB2.0 Port
Expanded 40-pin GPIO Header
Video/Audio Out:

4-pole 3.5mm connector
2 x micro HDMI port, support 4Kp60 video, dual display
Raw LCD (DSI)

Image/Camera input: CSI port
Storage: MicroSD
True Gigabit Ethernet, >900 Mbps
Power-over-Ethernet (PoE) support (requires separate PoE HAT)
2.4GHz and 5GHz IEEE 802.11.b/g/n/ac wireless LAN, Bluetooth 5.0 and BLE (Bluetooth Low Energy)
Low-Level Peripherals:

27 x GPIO
UART
I2C bus
SPI bus with two chip selects
+3.3V
+5V
Ground

Power Requirement, 5V/3.0A via USB type C connector.
Supports Raspbian, and check 3rd party Operating System here.
Dimensions: 85mm x 56mm x 17mm
What Will You Need to Get Started?
If you are new to Raspberry Pi 4 Model B, here are our recommendations for the existing user, maker, engineer: Discount for a limited time and stock.
The mainboard itself:
Power Supply or Power Adapter - Because Raspberry Pi 4 Model B comes USB-C for input power, you will need USB-C Power Adapter. Get the official adapter from Raspberry Pi Foundation here:
As always with new Raspberry Pi models, you'll need the latest version of Raspbian to run on your Raspberry Pi 4. You can get
With dual HDMI ports and limited space, the Raspberry Pi 4 Model B can only utilize a micro HDMI socket. You can grab the:
An enclosure is always good to protect the most important part of your computer. Since there are some changes in Raspberry Pi 4 compared to the previous boards, a new case is needed. Grab this Official Case for Raspberry Pi 4B (Red/White). 
A step by step guide for you to get started will useful for beginner, get the Official Raspberry Pi 4 Beginner's Guide 2nd Edition - Fully updated for Raspberry Pi 4
Documents:
Packing List:
1 x Raspberry Pi 4 Model B 8GB board
Getting Started:
Total Reviews (477)
5

97.69%

4

1.89%

3

0.21%

2

0.21%

1

0%