Note: This page offers a few options for NANO Base (A) Board board and kit with Raspberry Pi Compute Module 4 (Wireless, 4GB RAM, 16GB eMMC). Please choose the preferred option:
Note: For the kit/s, an UK plug (Type G) power adapter is included, it is suitable for Malaysia and Singapore.
Note: The Official Power Supply Unit (PSU) will be either in Black or White Color depending on availability.
---
Nano Base Board (A) For CM4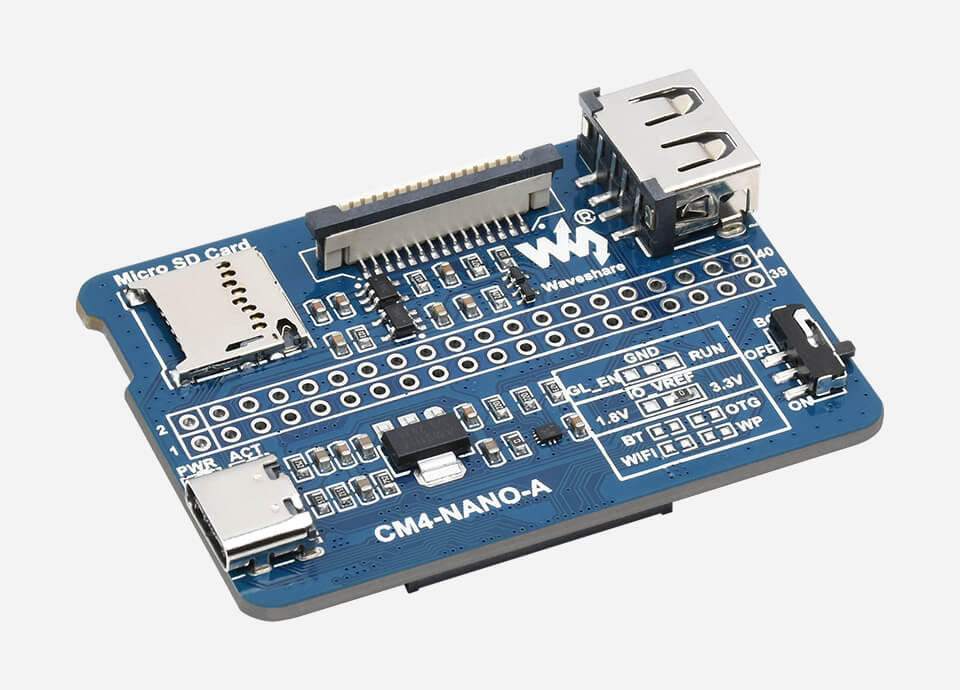 This is the basic baseboard for Raspberry Pi Compute Module 4, it supports both the Lite version (without onboard eMMC) and with eMMC of CM4. Not to forget the wireless and non-wireless versions of CM4, yet we DO NOT recommend using it with a non-wireless version as the baseboard DOES NOT come with an Ethernet port, it might be difficult to access into the OS.
Same Size As The CM4
Standard CM4 Socket, With Multiple Peripheral Interfaces, Suitable For Narrow Application Environment.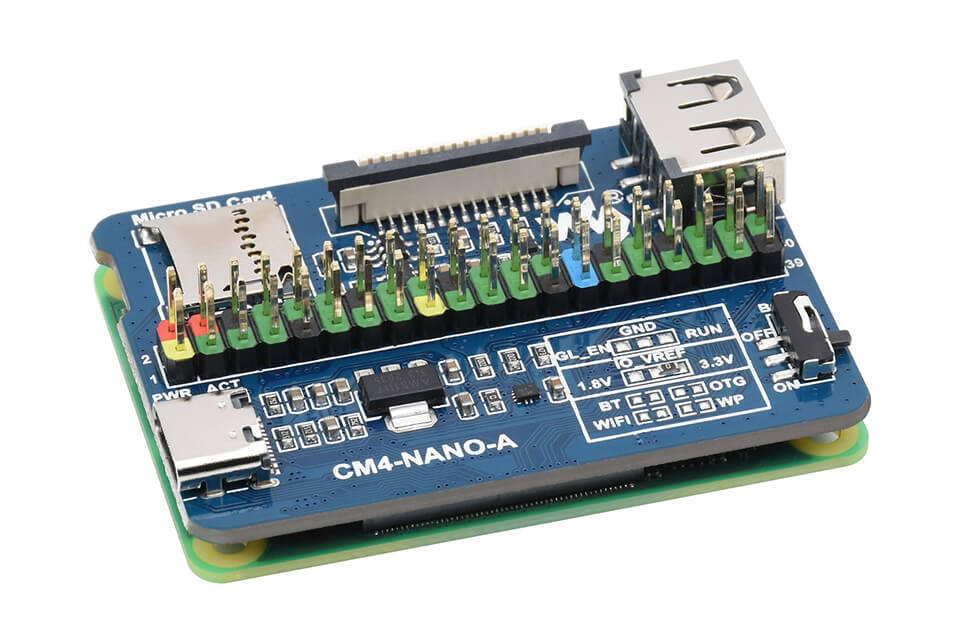 Note: The 40-pin GPIO Headers are not pre-soldered out of the box.
What's On Board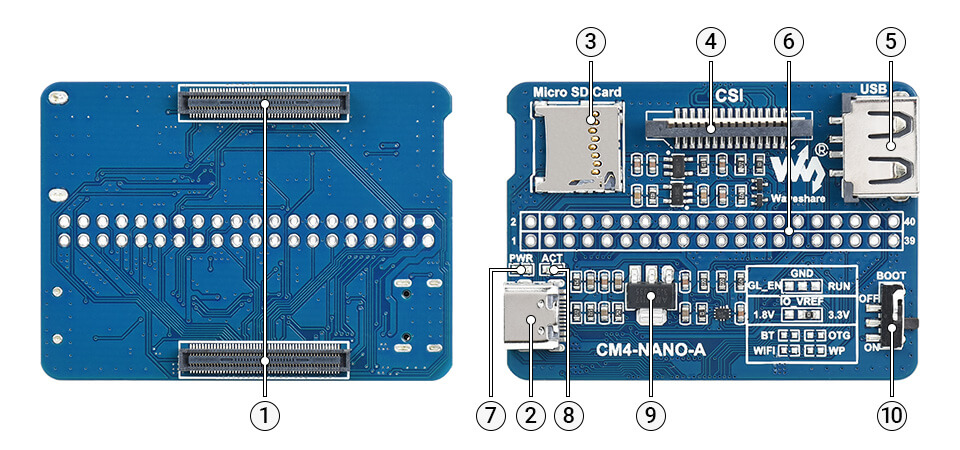 CM4 socket: Suitable for all variants of Compute Module 4, for stacking CM4
Power supply / Programming: 5V power supply, or used for eMMC burning
Micro SD card slot: For connecting a Micro SD card with a pre-burnt image (Lite variant ONLY)
CSI interface: 1 × MIPI CSI camera interface
USB2.0 interface: For connecting sorts of USB devices
40-PIN GPIO Pads: Suitable for connecting to various HAT modules, the 40-pin GPIO headers are included but NOT soldered out of the box
PWR indicator: CM4 power status indicator LED
ACT indicator: CM4 working status indicator LED
AMS1117-3.3: 3.3VDC Linear Voltage Regulator
BOOT slide switch:

ON: Switch USB to Type C interface, will enter download mode when powered on (configured as a large-capacity disk through RPI boot)
OFF: Switch USB to Type-A interface, will not enter download mode when powered on (booted from eMMC or Micro SD card)
Raspberry Pi Compute Module 4
Compute Module 4 is officially launched on 19th October 2020 with the same or better spec, and there are 32 variants of the module to choose from. This product page lists Compute Module 4 which comes WITH Wireless (WiFi and Bluetooth), 4GB RAM, and 16GB eMMC.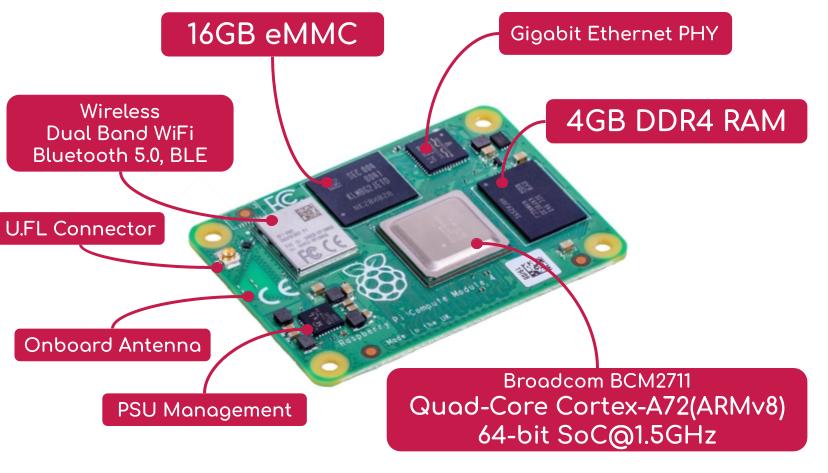 The Raspberry Pi Compute Module 4 (CM4) and Compute Module 4 Lite (CM4Lite) are loosely based on the Raspberry Pi 4B. The CM4 has an option for cost-sensitive applications to be supplied without the eMMC fitted; this version is called the CM4Lite. The form factor of the new CM4 and CM4L is different from previous Compute modules, which have all shared a form factor. The change is due to the addition of new interfaces; a second HDMI, PCIe, and Ethernet. The addition of these new interfaces, especially PCIe, would not have been possible while preserving the older form factor. Instead, the electrical interface of the CM4 is via two 100-pin high-density connectors. While the switch to a newer form factor has allowed a reduction in the footprint. The total footprint of the CM4, including the socket, is smaller with the new form factor design.
The back of CM4. The electrical interface of the CM4 is via two 100-pin high-density connectors at the back of the PCB.
Here is the top view of CM4 with Wireless and onboard eMMC:
Compute Module 4 with built-in Wireless and eMMC
Using CM4 with eMMC (Flash the OS):
Power Off the Nano Base (A) board. Unplug the micro SD card if there is any.
Mount the CM4 (with eMMC) on Nano Base (A) board. CAUTION: be careful of the CM4 position, align the CM4 layout corner marks and holes, otherwise CM4 or Nano Base (A) board would get damaged.
Make sure the BOOT slide switch is in the ON position.
On PC, install and launch raspberry pi usbboot, refer to the official guide on flashing OS into CM by Raspberry Pi.
Connect Nano Base (A) board with a USB-A to USB-C cable to the PC. (a USB-C to USB-C cable may not work)
Then an external disk like a Pendrive, aka USB mass storage, would show up on the PC, write this disk with OS image with Raspberry Pi Imager.

As the Nano Base (A) board does not come with an HDMI port, most likely you need to configure the CM4 to operate in headless mode (without a monitor, keyboard, or mouse). Please do configure the WiFi connection under the "Advanced Options".

After the image is written and the external drive is umounted from the PC, disconnect Nano Base (A) board from the PC.
Push the BOOT slide switch to the OFF position.
Plug Other devices you may need such as USB Keyboard.
Power Nano Base (A) board with a 15W USB-C power supply. With the power indicator LED on, you are good to go. Enjoy & have fun.
Note:
USB2.0 port is disabled by default in Raspberry Pi OS on CM4, please check the steps here to enable it.
CSI port is also disabled by default, please check the steps here to use it.
Of course, you can also check out these accessories in case you do not have one:
Features and Spec:
Nano Base (A) Board:

The Basic/Fundamental Board for CM4 evaluation and even deployment.
NO HDMI Port, perfect for Headless setup
NO Ethernet Port, recommended using with built-in Wireless CM4
CM4 SOCKET: suitable for all variants of Compute Module 4
CONNECTOR: 1x Raspberry Pi 40-pin GPIO interface, GPIO header pins are not pre-soldered
USB: 1 x USB 2.0 Type-A interface
CAMERA: 1 x MIPI CSI-2 port (15pin 1.0mm FPC connector)
STORAGE: Micro SD card socket for Compute Module 4 Lite (without eMMC) variants
POWER INPUT: 5VDC via USB-C port
DIMENSIONS: 55 × 40mm

CM4 Wireless, 4GB RAM, 16GB eMMC:

Processor: Broadcom BCM2711, Quad-core Cortex-A72 (ARM v8) 64-bit SoC @ 1.5GHz
H.265 (HEVC) (up to 4kp60 decode), H.264 (up to 1080p60 decode, 1080p30 encode)
OpenGL ES 3.0 graphics
4GB LPDDR4-3200 SDRAM
 16GB eMMC Flash memory

Peak eMMC bandwidth 100MBytes/s (four times faster than previous Compute modules)

built-in Fully certified radio module with :
◦ Dual-band WiFi: 2.4 GHz, 5.0 GHz IEEE 802.11 b/g/n/ac wireless
◦ Bluetooth 5.0, BLE
◦ Onboard electronic switch to select between external or PCB trace antenna
Gigabit Ethernet PHY supporting IEEE 1588
1 x PCIe 1-lane Host, Gen 2 ( 5Gbps )
1 x USB 2.0 port ( highspeed )
28 x user GPIO supporting either 3.3V or 1.8V signaling and various interface options:

Up to 6 x UART
Up to 6 x I2C
Up to 5 x SPI
1 x SDIO interface
1 x DPI (Parallel RGB Display)
1 x PCM
Up to 2 x PWM channels
Up to 3 x GPCLK outputs

2 x HDMI 2.0 ports (up to 4kp60 supported)
MIPI DSI:

1 x 2-lane MIPI DSI display port
1 x 4-lane MIPI DSI display port

MIPI CSI-2:

1 x 2-lane MIPI CSI camera port
1 x 4-lane MIPI DSI camera port

1 x SDIO 2.0 (CM4Lite only)
Single +5VDC Power Supply Unit input
Small Footprint 55mm x 40mm x 4.7mm with 4 x M2.5 mounting holes

Packing List:
Raspberry Pi CM4 Wireless 4G RAM 16G eMMC with NANO BASE (A) Kit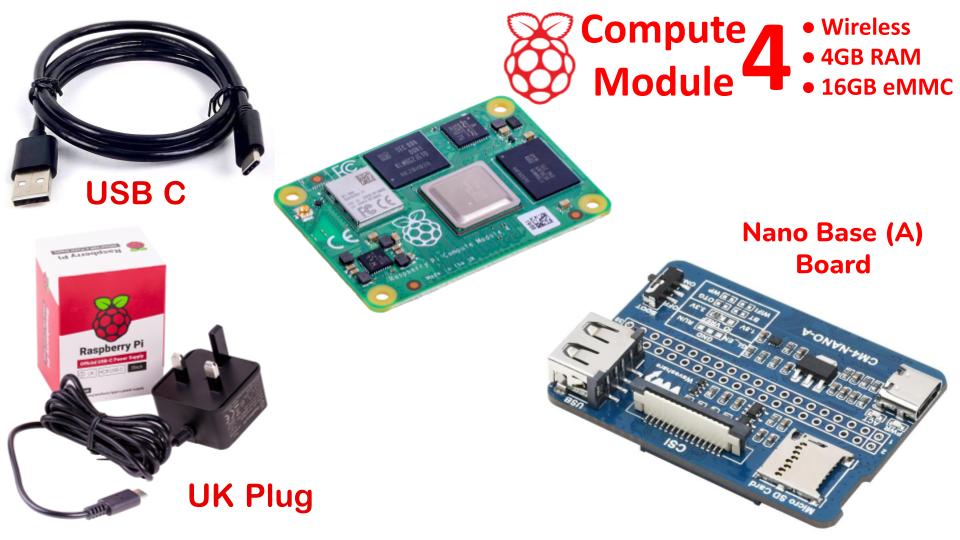 NANO Base (A) Raspberry Pi CM4 Board

1 x Nano Base Board (A) for CM4
1 x 40-pin GPIO Headers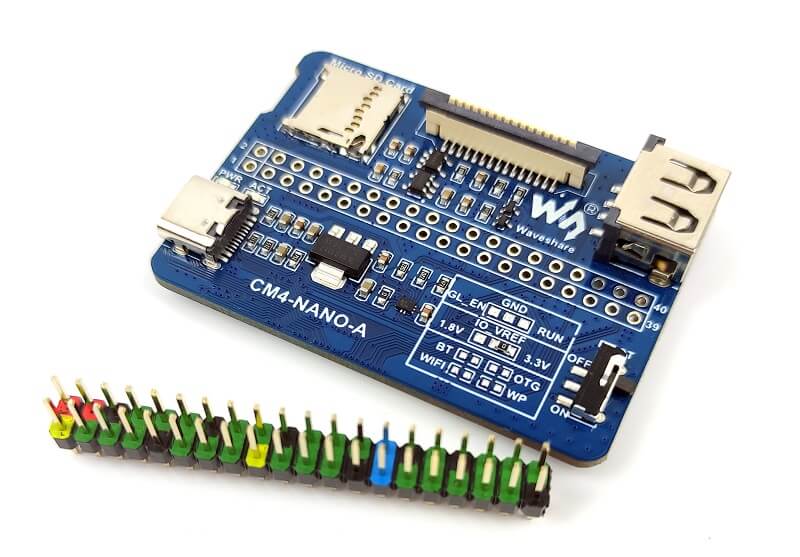 Resources: