Description
Need a new nozzle for your 3D printer? It's important to carefully review your needs before selecting a nozzle. The smaller nozzles have a small nozzle tip that offers incredible precision, while the larger nozzles allow you to print with larger layers. You can easily identify all the nozzles by looking at the markings on the flats of the hex head.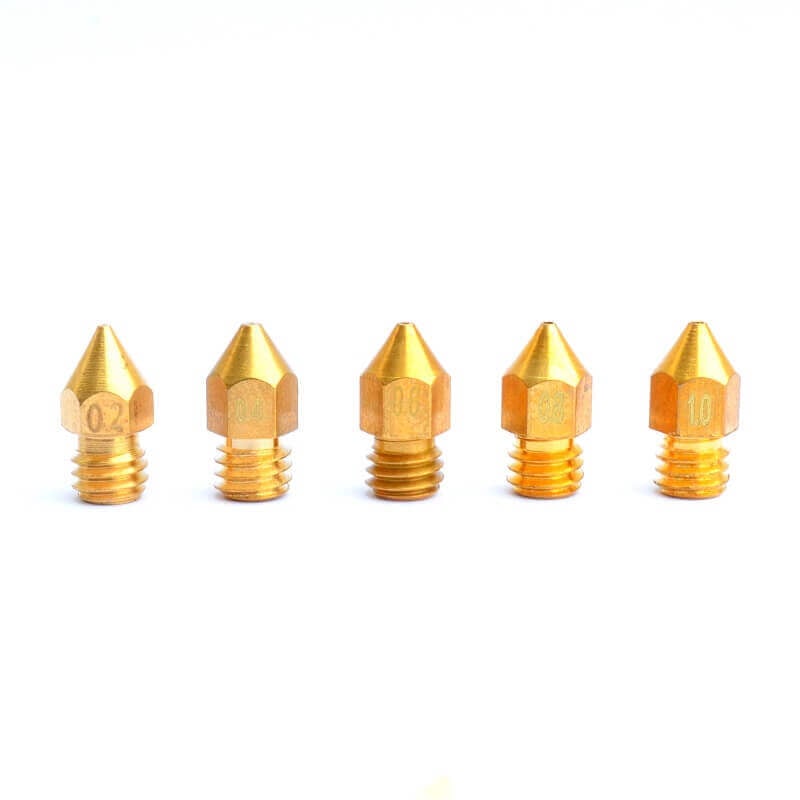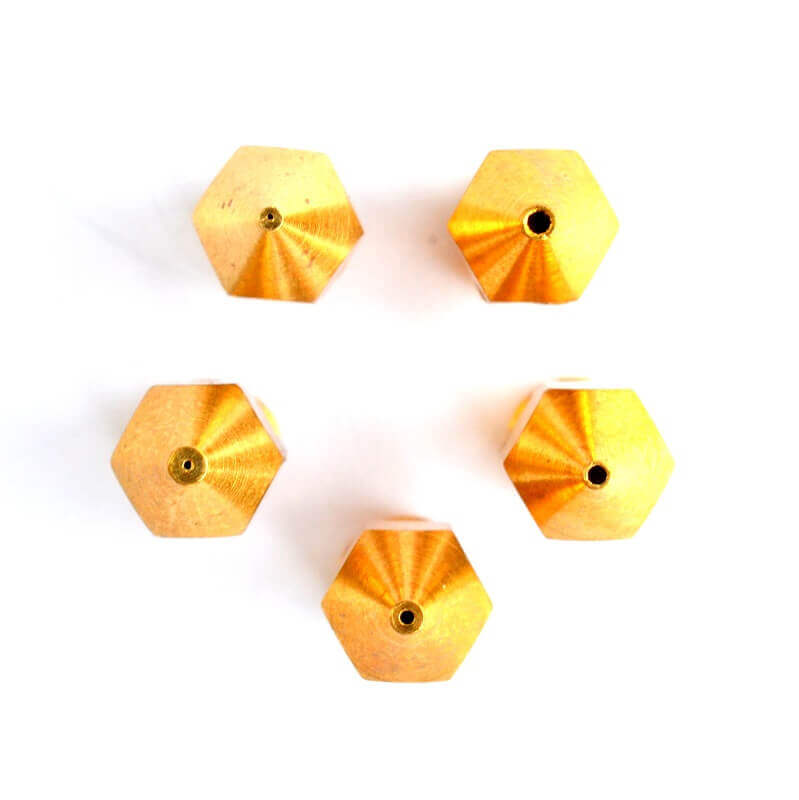 Based on the picture shown above, there is "0.4" marking on it. That means the nozzle output diameter is 0.4mm. This MK8 thread nozzle is suitable for Creality Ender and CR Series 3D Printer (EXCEPT CR-10S PRO and CR-X).
How to choose the nozzle size?
The most common nozzle size used is 0.4 mm because it provides a good balance between print speed and precision. But small and big nozzle size has their own pro and con. Generally, this table shows the guideline for you to choose the size depending on your application. For more details about the nozzle size explanation, you may refer to the article "Everything about nozzles with a different diameter" by Mikolas Zuza (blog.prusaprinters.org).
Note: Remember to change your nozzle size in your slicer setting if you change the nozzle size (0.4mm is the default size for most of the slicers). You will be shocked when you observe the reduction of printing time by changing the bigger size (in slicer) for your huge printing part.
Basically, the different size of nozzles affects your printing resolution on X and Y axes only. Z-axis resolution still depends on your slicer setting (printing resolution or printing layer height). However, the max printing layer height is limited by nozzle size, the formula for the recommended max layer height = 0.8(or 80%) x nozzle size.
Still dilemma about the size of the nozzle? Perhaps you can consider our bundle of 10pcs different sizes for MK8 nozzle at a better price. Get ready for your gear to print your tiny or huge parts anytime.
MK8 Nozzle, Combo Size (CK-3D-NZ-MK8-10D)

2 x MK8 0.2mm Nozzle
4 x MK8 0.4mm Nozzle
2 x MK8 0.6mm Nozzle
1 x MK8 0.8mm Nozzle
1 x MK8 1.0mm Nozzle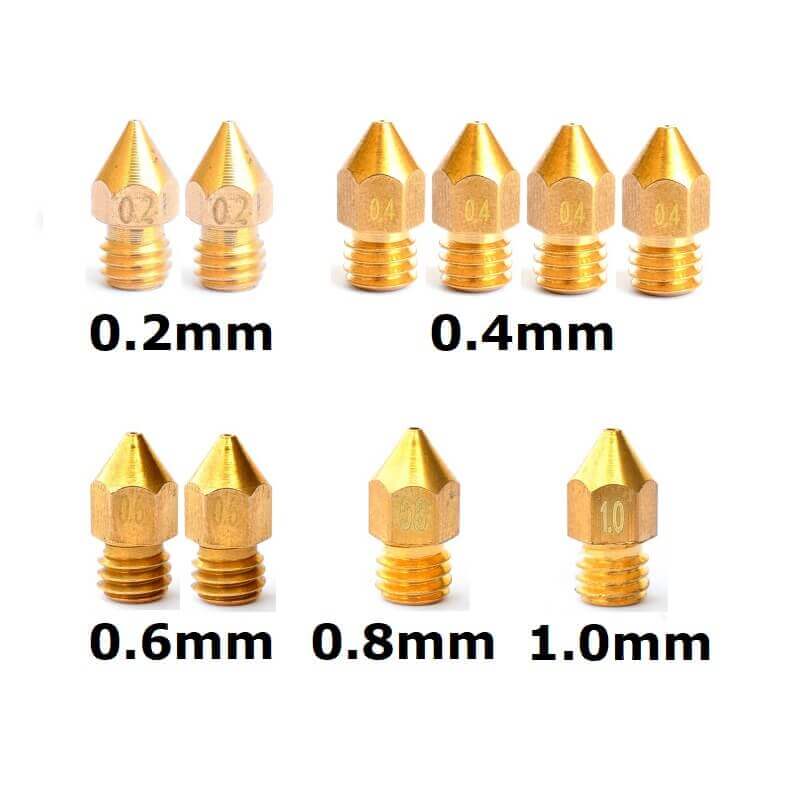 Specifications:
Nozzle Total Length: 13mm
Nozzle Thread Length: +- 5mm
Nozzle Screw Thread Size: 6mm diameter
Nozzle Output Filament Diameter: 0.2, 0.4, 0.6, 0.8 and 1.0mm
Weight: 7g
Packing List:
For individual:
1 x MK8 Nozzle for 3D Printer (1.75mm Input)
For Combo Size (CK-3D-NZ-MK8-10D):
2 x MK8 0.2mm Nozzle for 3D Printer (1.75mm Input)
4 x MK8 0.4mm Nozzle for 3D Printer (1.75mm Input)
2 x MK8 0.6mm Nozzle for 3D Printer (1.75mm Input)
1 x MK8 0.8mm Nozzle for 3D Printer (1.75mm Input)
1 x MK8 1.0mm Nozzle for 3D Printer (1.75mm Input)
How to change a nozzle
Note: The picture shown below is just an example of how the nozzle is installed at the hot end. The nozzle shape for this product is also different from the nozzle shown above, and different 3D printers may have different hot end designs. But it should be no problem as the nozzle's hot end diameter normally follows the standard size. Refer to specifications for double check.
Heat the hot end to printing temperature, or at least 200°C.
Use a tool like an adjustable wrench or channel locks to steady the heat block while you use a socket wrench to turn the nozzle.
Make sure the hot end is still hot when installing the new nozzle.
Note: Please make sure the hot end is heated first. Failure to heat the hot end before changing the nozzle is the most common reason for a broken nozzle.
New to 3D Printing but not sure where to start? 
You can start by being a part of our 3D Printing Community!

Reviews (82)
Total Reviews (82)
5

98.78%

4

1.22%

3

0%

2

0%

1

0%