Description
Maker Reflect is a tiny reflectance sensor that consists of an infrared (IR) LED that transmits IR light onto a surface and a phototransistor measures how much light is reflected back. The output is in analog voltage - The more IR light is sensed by the phototransistor, the lower the voltage.
Typically this sensor is used in line following robot as the white surfaces reflect more IR than black surfaces. However, it is not limited to line follower, there are much more application which can utilize the Maker Reflect. Eg.: Edge/Border sensor in Sumo robot, wall sensor in maze solving robot, short-distance object detector (presence sensor), a sensor for rotary wheel encoder...etc.
Measuring only (L)18.1mm x (W)8.4mm x (H)4.2mm (Exclude the header pin), this tiny sensor can be easily fitted in the tightest space available on your robot. We purposely designed the sensor so that the mounting hole is at the center so that the sensor can be at the front-most position. This is especially important in the Sumo robot.
Dimension:
Features
Operating Voltage: 3.3V and 5V Compatible
Sensing Distance (Height): 1mm to 40mm (Vcc = 5V, Black line on a white surface)
Output: Analog Voltage (White surface = lower voltage)
Example Application: Line Following Robot, Sumo Robot, Wall Following Robot, Short Distance Object Sensing, Sensor for Printed Rotary Wheel Encoder.
Related Tutorials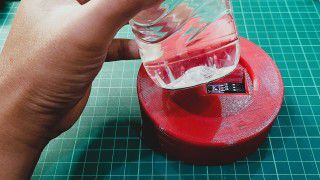 Getting enough water every day is important for our health. But sometimes we are too busy and forgot about it. This tutorial will share how to build a simple yet interesting device to remind us to dri..
Reviews (87)
Total Reviews (87)
5

95.4%

4

0%

3

4.6%

2

0%

1

0%