Description
M5Paper v1.1 is M5Stacks latest core device with a touch-enabled E-ink display. Powered by the ESP32-D0WDQ6-V3, this is the first device to integrate a super-sized 540x960 @ 4.7" E-ink display, which supports 16 grayscale levels. The display is a GT911 capacitive touch screen, which supports two-point touch and a variety of gesture controls. Compared to a regular LCD, E-ink displays are easier on the eyes, which makes them a great choice for reading or viewing for longer periods. Other benefits are the low power consumption and the ability to retain the image even if power to the display is terminated. Other features integrated with the CoreInk are a multi-function button for operation, an SHT30 temperature and moisture sensor, physical buttons, and a TF-card (microSD) port for data storage.
Additionally, the FM24C02 internal EEPROM chip provided 2K-bit(256x8)-EEPROM can be used to store vital data even when the device is off. A 1150mAh lithium polymer battery keeps the device going for long periods and battery life can be further preserved by using the RTC (BM8563) to set the device into a deep sleep and wake it up again when needed. Three HY2.0-4P expansion ports are included which allow for building complex projects using the existing sensors in the M5Stack ecosystem.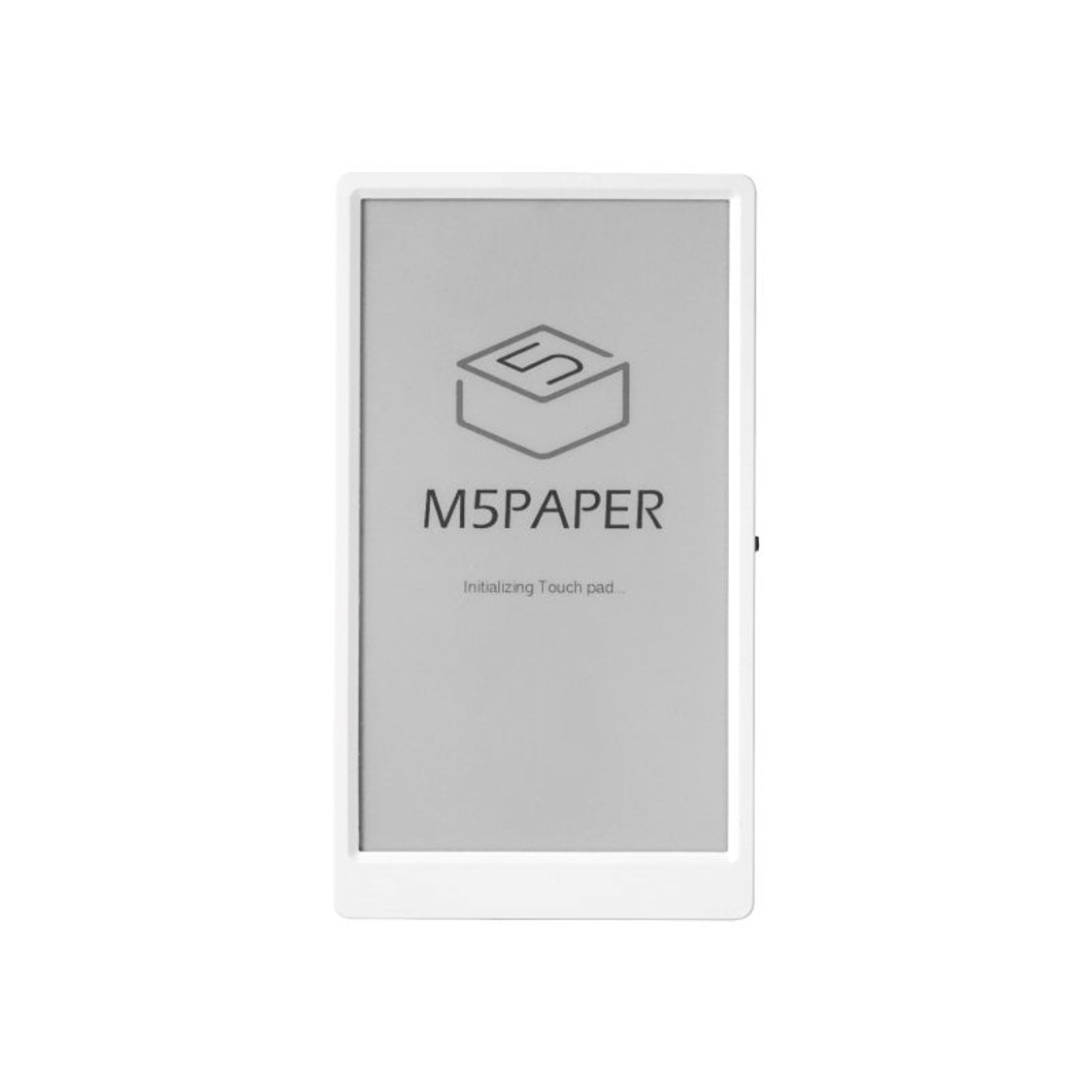 Note: M5Paper v1.1 adopts a flexible e-Ink screen panel, which is the same model as M5Paper v1.0 hard e-Ink screen panel. All features and specs are the same for both models and use CP2104 and CH9102 as the USB serial chip in alternative. Please install the relevant USB driver according to your device.
Warning:
Do not expose to ultraviolet rays for a long time, otherwise, it may cause irreversible damage to the ink screen.
The low-power power management solution adopted by M5Paper is different from CORE and StickC devices. When using it, the PWR button is used as the power-on button (long press for 2s). If you need to shut down the device, you need to use the software API or press the reset button on the back. When using the USB power supply, it cannot be shut down.
During use, if the program cannot be downloaded normally (the prompt is overtime or failed to write to target RAM), you can try to reinstall the device driver. For driver downloads, please refer to the resources section at the bottom of this page.
Applications:
IoT Terminal
E-Book
Industrial Control Panel
Smart Home Panel
Features
ESP32 Standard wireless functions Wi-Fi
Internal 16M Flash
Low Power Display
Multi-Point touch screen
180-degree viewing angle
Built-in Magnet
Internal 1150mAh Battery
Expandable - HY2.0-4P 3 x external expansion ports
Specifications:
ESP32-D0WDQ6-V3: 240MHz dual core, 600 DMIPS, 520KB SRAM, Wi-Fi
Flash: 16MB
PSRAM: 8MB
Input Voltage: 5V @ 500mA
Ports:

1 x USB Type C
3 x HY2.0-4P
1 x TF-card (microSD) slot

E-Ink Display:

Model Number: EPD_ED047TC1
Resolution: 540 x 960 @ 4.7"
Grayscale: 16 Levels
Display area: 58.32 mm x 103.68 mm
Display Driver: IT8951E

Physical Button:

1 x Multi-function Button
1 x Reset Button

RTC: BM8563
Antenna: 2.4G 3D Antenna
Pins: G25, G32, G26, G33, G18, G19
Battery: 1150mAh @ 3.7V
Working Temperature: 0°C to 60°C
Net Weight: 86g
Gross Weight: 100g
Product Dimension: 118mm x 66mm x 10mm
Packaging Dimension: 120mm x 70mm x 14mm
Casing Material: Plastic