Note: This page has 2 JetRacer Kits options. Please choose the preferred kit.

Note: The AA battery included in the kit is subject to availability.
---
It's Racing Time! Meet The JetRacer — AI Racing Robot Powered By Jetson Nano. This is an AI Racing Robot kit based on Jetson Nano Developer Kit. It supports deep learning, auto line following, autonomous driving and so on.
Video on how to assemble Jet racer | Jet racer by Nvidia jetson nano by TANNA TECHBIZ
Specifications:
Note: Please be cautioned on the battery polarity for both the Controller board (18650) and the Wireless controller (AA battery), as the wrong polarity might damage both the circuit board and battery.
Packing list:
Jetson AI Racer Kit with Jetson Nano and MicroSD Card 

1 x JetRacer metal kit (6pcs)
1 x EVA felt pad (2pcs)
1 x 3D-printed motor lid
1 x JetRacer expansion board
1 x IMX219-160 Camera + Ribbon cable
1 x Wireless-AC8265 set
1 x Acrylic piece
1 x Servo mount
2 x Metal Gearmotor
4 x Tire
2 x Coupler
1 x MG996R servo set
1 x MG996R servo wheelset
2 x Steering knuckle
4 x Ball bearing
4 x M3 plastic ball joint
2 x M3 pull bar
1 x 12.6V battery charger + EU head
1 x Wireless controller
1 x 6 Pin cable
2 x Spanner
2 x Screwdriver
1 x Mini cross wrench sleeve
1 x 4010 cooling fan
1 x Micro SD card reader
1 x Screws pack
1 x Track map
4 x Heavy duty AA battery (for the wireless controller)
Note: The AA battery included in the kit is subject to availability
1 x Micro USB cable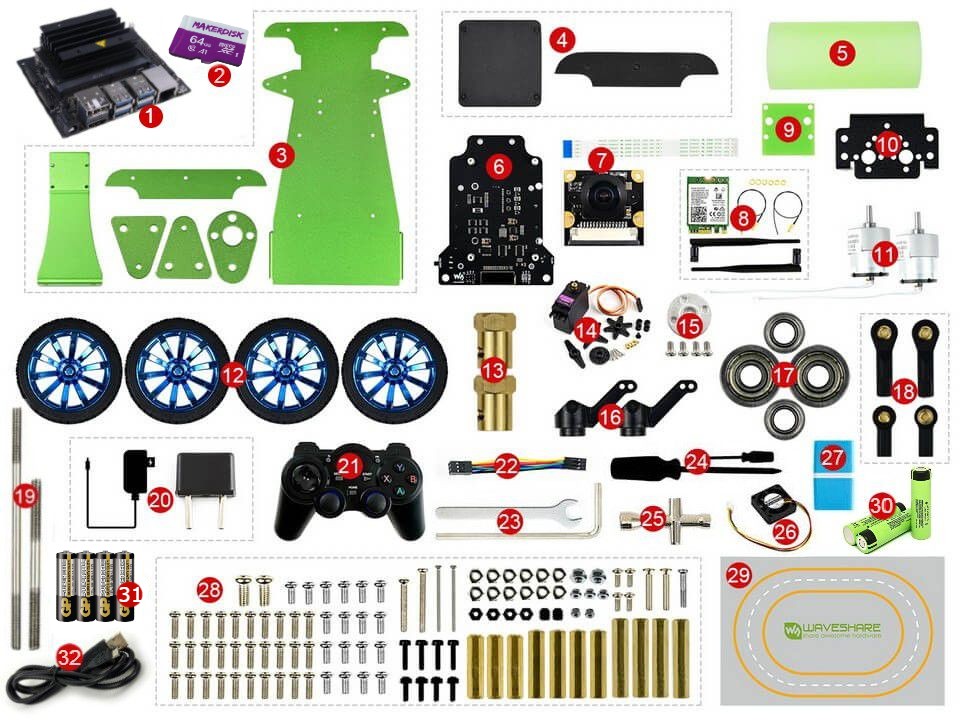 Jetson AI Racer Kit without Jetson Nano and MicroSD Card 

1 x JetRacer metal kit (6pcs)
1 x EVA felt pad (2pcs)
1 x 3D-printed motor lid
1 x JetRacer expansion board
1 x IMX219-160 Camera + Ribbon cable
1 x Wireless-AC8265 set
1 x Acrylic piece
1 x Servo mount
2 x Metal Gearmotor
4 x Tire
2 x Coupler
1 x MG996R servo set
1 x MG996R servo wheelset
2 x Steering knuckle
4 x Ball bearing
4 x M3 plastic ball joint
2 x M3 pull bar
1 x 12.6V battery charger + EU head
1 x Wireless controller
1 x 6 Pin cable
2 x Spanner
2 x Screwdriver
1 x Mini cross wrench sleeve
1 x 4010 cooling fan
1 x Micro SD card reader
1 x Screws pack
1 x Track map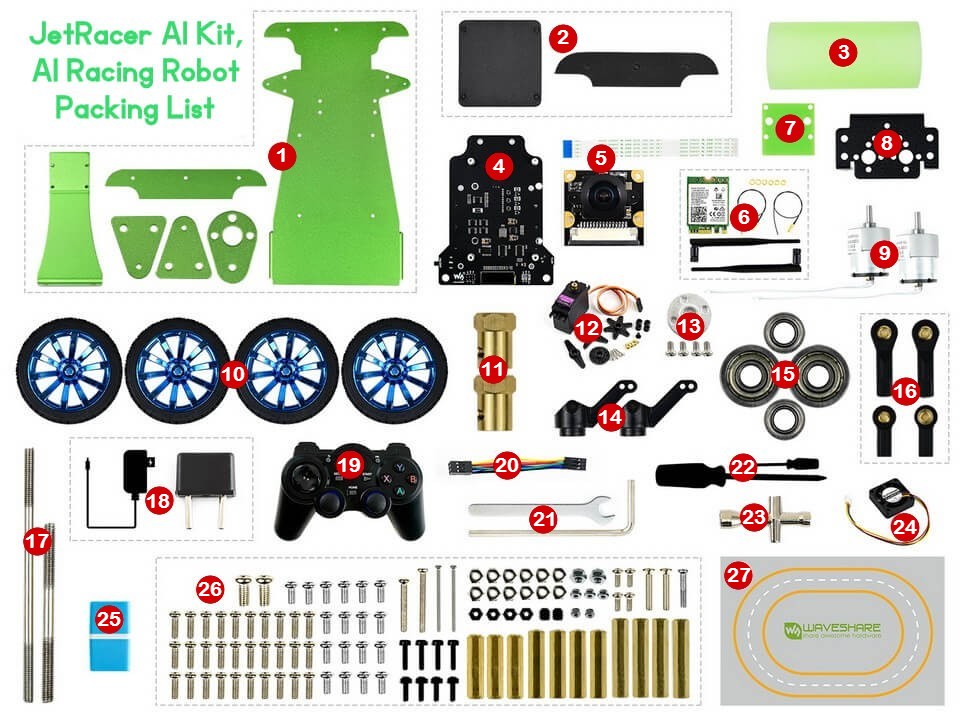 Resources: