With Industrial Revolution 4.0 (IR4.0), more industry automation is needed for the country to move towards digitalization. Here is one of the solutions. An industry-grade Programmable Logic Controller (PLC) that based on Raspberry Pi 4 Model B single-board computer, for any engineer to deploy in the field. It is CE certified and comes ready with the Raspberry Pi 4 Model B 4GB board, and an 8GB microSD card pre-loaded with Linux OS.
This equipment based on the Raspberry Pi technology is designed for professional and industrial use. This PLC has up to 36 Digital Inputs, 16 Analog Inputs, 22 Digital Outputs, 8 Analog Outputs, up to 23 Relay, and 6 Interrupt.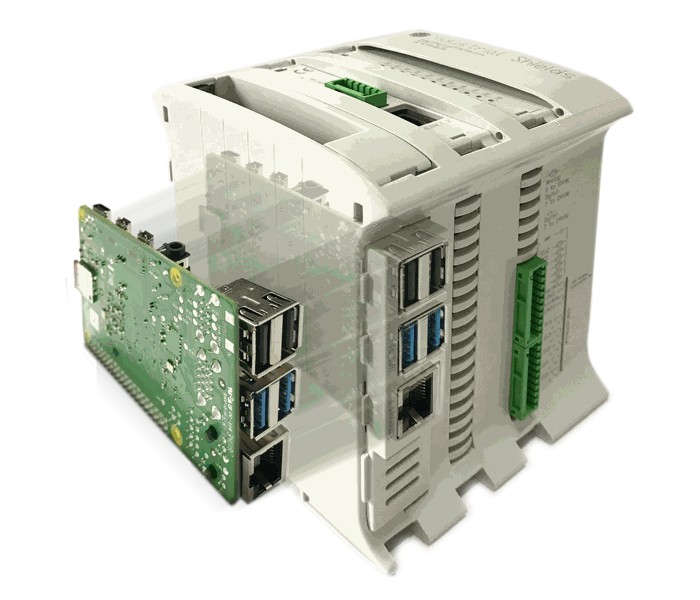 It also contains several communication ports which provide great flexibility and control. The Raspberry PLC family offers the CAN bus, double ethernet port, double RS-485, WiFi, Bluetooth.
This PLC runs a Linux or a Raspberry Pi OS (previously called Raspbian), a Debian-based operating system with all the flexibility and power that the Linux operating system offers. In other words, you can program it using any programming language that Raspberry Pi OS supports, for example, Node-Red, Python 2, 3 that comes in Raspberry Pi OS, and many more. Do check the User's Manual to get started.
Note: You will need to power this PLC with 12V to 24VDC, we recommend getting a switching power supply.
Features:
UPS - Uninterrupted Power Supply

Secure your operating system, your current processes, and your data with an uninterrupted power supply that guarantees a clean shutdown in case of a power failure.

High Processing Speed

The Raspberry Pi allows high-speed processing compared to most common PLCs.

Multi-process

Work with applications in real-time and allowing multi-process.

LINUX or Raspberry Pi OS (previously called Raspbian)

All the power, flexibility, and features of the Linux Operating System. Use Linux or Raspberry Pi OS (previously called Raspbian), the Debian-based solution from Raspberry Pi.

Multiple Connectivity, Multiple Options

Thanks to the dual Ethernet ports, the dual RS-485, WiFI, Bluetooth, CAN bus, and other options, you can connect to a large number of devices and use multiple protocols and communication ports.

RTC - Real Time Clock

A great number of applications require working with RTC. The PLC Raspberry Pi allows you the use of this feature with the internal clock that guarantees the current time and date to keep track of the right time.
Specifications:
CPU: Raspberry PI 4 Model B - 4GB
Comes with an 8GB MicroSD card
Max current: 1.5 A
Clock speed: 1.5 GHz
Input rated voltage: 12 to 24 VDC
Input voltage: 24 VDC
Rated power: 30W
Fuse protection (2.5 A) Polarity protection
Programming: Linux applications (Python, C++, etc.)
Inputs:

Inputs1-10
Digital Inputs: 13
Interrupt Input:2
Analog Inputs: 6

Outputs:

Outputs: 11-20
Digital Outputs: 8
Analog Outputs (Included as a Digital Output): 3

Communications

Ethernet
RS485
I2C
SPI
Serial TTL
Wifi & Bluetooth LE

Additional functions:
Packing list:
1 x Industry PLC RPi 4B 4G - Ethernet with 21 IO
1 x Raspberry Pi 4 Model B 4GB is included and preassembled
Note: An 8GB microSD card with preinstalled Linux OS is included and preassembled in this product. The OS is customized to work with the PLC inputs and outputs.
Resources: