Description
Note: Not suitable for children under 10 years old!
Warning: Laser is used in this project, take proper precautions and avoid direct eye exposure!
Note: Download the softcopy instruction manual (English) here. 
---
The DIY (Do It Yourself) Kit for Children Age 10 and above
If you have trouble playing the video above, you may access the video from here.
A laser-based Security System is a type of security and alarm system that uses laser light and a light sensor. In this kit, you will learn how to connect an alarm circuit and allows it to trigger when the laser beam is blocked.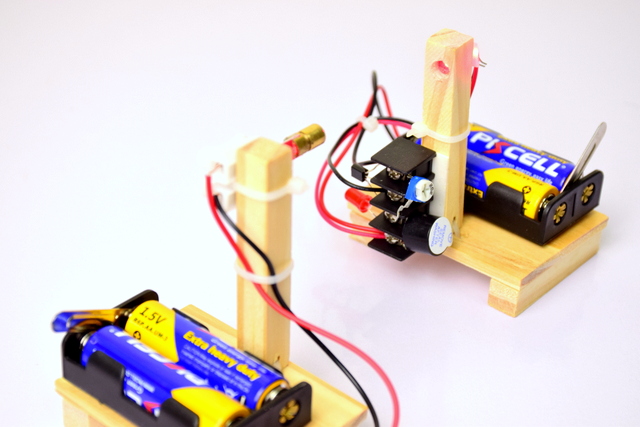 This DIY kit is simple enough to be built by 10 years old children. Let them explore the capability of a laser and a light-dependent resistor (LDR) sensor.
Features
Do It Yourself Laser Alarm System
Simple and yet educational
Suitable for age 10 years old and above
Come with everything needed to assemble a laser alarm system
No soldering is needed
Learn about laser, LDR sensor, and connecting an electronic circuit!
Packing List
2 x AA battery holders
4 x AA batteries
1 x Screw block terminal
1 x Connector with wires
1 x Laser diode
1 x Push block connector
1 x LDR sensor
1 x Variable resistor
1 x Transistor
1 x LED
1 x Buzzer
Wooden parts for the laser alarm system
Some double-sided tape
Some cable tie
Note: Kit does not include a screwdriver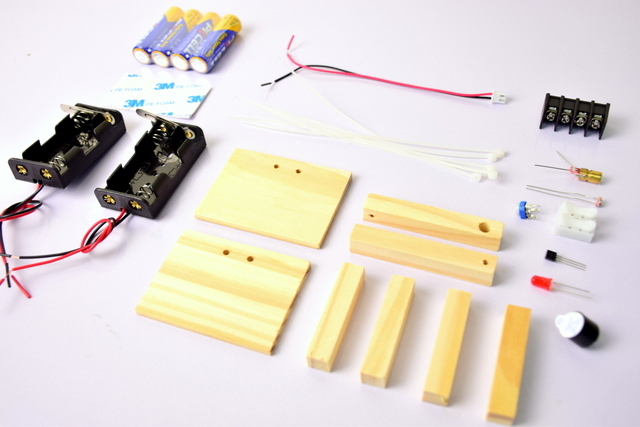 Reviews (7)
Total Reviews (7)
5

85.71%

4

0%

3

0%

2

14.29%

1

0%