Note: This kit comes with AA batteries.
Note: Download the softcopy instruction manual (English) here. 
---
The DIY (Do It Yourself) Kit for Children Age 4 to 10 Years Old
If you have trouble playing the video above, you may access the video from here.
An electromagnet is a type of magnet in which the magnetic field is produced by an electric current. Electromagnets usually consist of wire wound into a coil. A current through the wire creates a magnetic field.
The main advantage of an electromagnet over a permanent magnet is that the magnetic field can be quickly changed by controlling the amount of electric current in the winding. However, unlike a permanent magnet that needs no power, an electromagnet requires a continuous supply of current to maintain the magnetic field.
This DIY kit is simple enough to be built by 4 years old children, with parent's help. And children 6 years old and above can build it by themselves! 
Upon completing this kit, students should be able to:
Relate that electric current creates a magnetic field.
Describe how an electromagnet is made.
Investigate ways to change the strength of an electromagnet.
List several items that engineers have designed using electromagnets.
Note: Not suitable for children under 4 years old!
Features:
Do It Yourself ElectroMagnetic Experiment for kids
Suitable for age 4 years old and above
Come with everything needed to assemble it
Powered with one AA-size battery (included in this kit)
No soldering is needed
Learn about the electromagnetic principal
Packing List:
1 x Coil
1 x AA battery holder
2 x Wires
4 x AA Battery
Some metal washer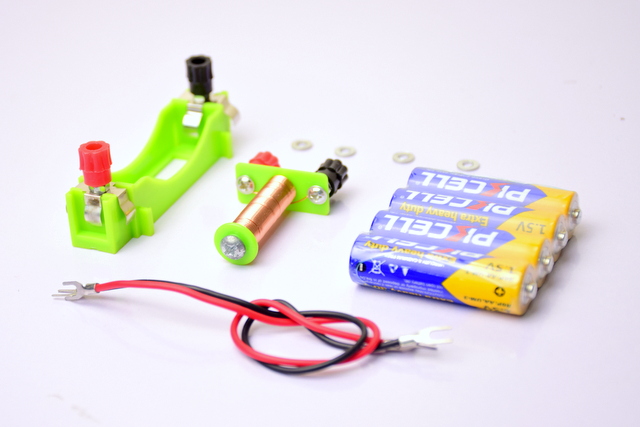 Resources: