Note: This kit comes with AA batteries.
Rover DIY (Do It Yourself) Kit for Children Age 4 to 12 Years Old
Now comes in a 3-in-1 Bundle!
DIY Bionic Worm Crawling Robot (with Batteries)
Get this kit to keep your kids occupied with hands-on activities while enjoying the "robot" crawling when it is completed. This DIY kit is simple enough to be built by 4 years old children, with parent's help. And children 6 years old and above can build it by themself! Let's them explore the fundamental mechanical structure of the mechanical machine, and the concept of the electric motor :)
DIY Wooden Tank STEM Kit
TANKS! Who doesn't love them? In this DIY kit, you will learn the concept of the continuous track or better known as the caterpillar track. It is a system built with a continuous band of treads that is driven by two or more wheels.
Still can't grasp the concept of the caterpillar track? Get this kit now and experiment with it with your children! Compared to a conventional wheel, this tank is able to drive through uneven or hilly surfaces, cool right??
DIY Wooden Geared Mobile Robot STEM Kit
Gears are wheels with teeth that slot and rotate together. When one gear is turned, the other gear will turn as well. And when one gear turns in a clockwise direction, the other gear that is slotted together with it will turn in an anti-clockwise direction! Cool isn't it?
Can't imagine how it works? Let this kit do the explaining for you and your children. The kit comes in two different modes where folding the gears together allows the vehicle to move forward or reverse. 
Note: The gear wheels move better on textile surfaces.
---
Packing List
Packing List (DIY Bionic Worm Crawling Robot (with Batteries)):
Wooden parts for the robot body structure
4 x Plastic wheels (black and white)
1 x Small DC Motor
2 x Plastic wheels for small DC motor
1 x 2xAA size battery holder with wires (Black and Red)
2 x Rubber Band
Some Iron rods
Some bolts and nuts, plus some self-tapping screws
1 x Small Screwdriver
4 x AA battery (not shown in the picture, but included)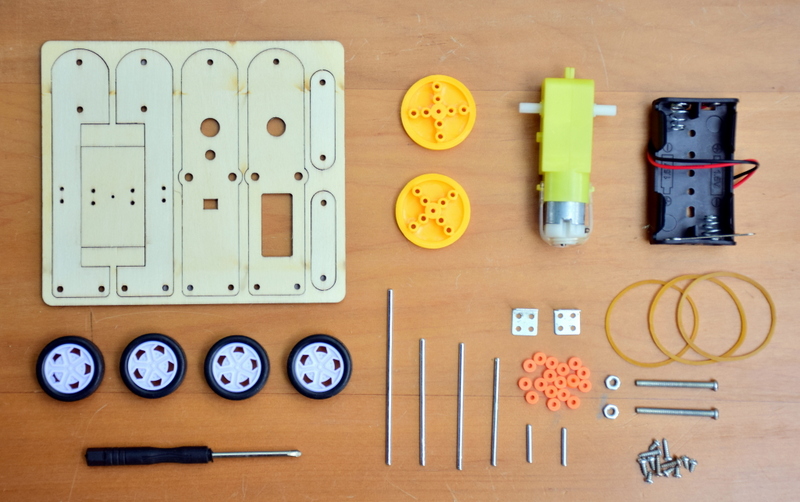 Packing List (DIY Wooden Tank STEM Kit):
Wooden parts for the tank structure
Some double-sided tape
6 x White small plastic gears
4 x White big plastic gears
1 x AA battery holder
1 x Semi circle foam
1 x DC motor
4 x Long metal rod
2 x Short metal rod
4 x AA batteries
2 x Rubberband
1 x Wood glue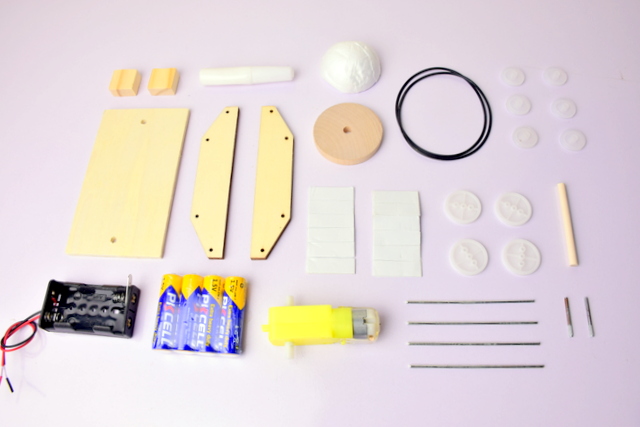 Packing List (DIY Wooden Geared Mobile Robot STEM Kit):
Wooden parts for the car structure
Some orange plastic stopper
Some double-sided tape
Some screws
2 x White plastic gear-shaped connector
1 x Metal rod
1 x AA battery holder
1 x Wooden filer (For sanding)
1 x DC motor
1 x Orange plastic stopper
4 x AA batteries
1 x Screwdriver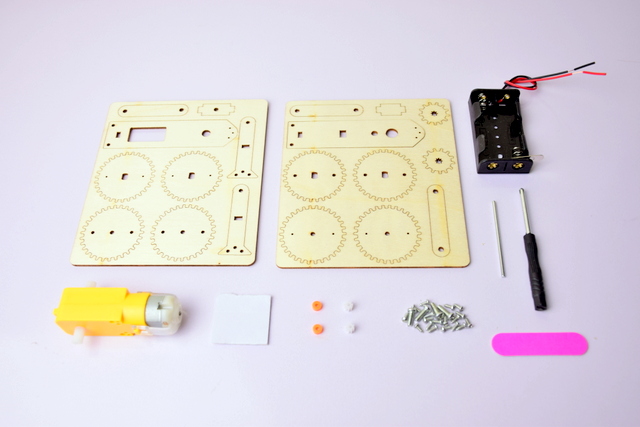 Resources: